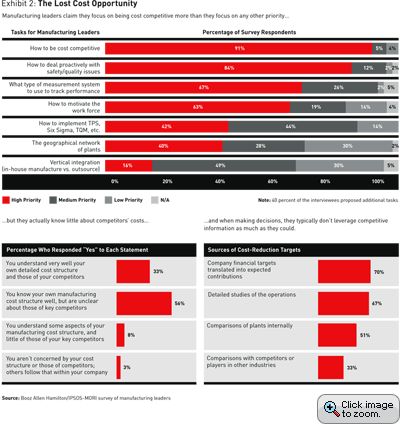 This lack of competitive information seems to have an impact on companies' decision-making process. In two out of three cases, only internal information drives their cost-reduction decisions and target setting. Companies thus overlook the benefits that could be gained from benchmarking competitors in the industry and thus from understanding many more real sources for potential improvement.
A thorough assessment of cost competitiveness can lead to critical changes in strategy that reach well beyond the boundaries of manufacturing. For example, a manufacturing company in Latin America, keen on acquiring one of its competitors, conducted a five-week analysis of its rival's financial underpinnings. The company built a multidimensional picture of its competitors' cost structures by pooling readily available information about its strategic planning, manufacturing, and commercial functions. On the basis of this data, which had not been analyzed in such depth before, management realized that proceeding with the acquisition would not bring significant new capacity and would merely force a consolidation of the industry — a consolidation that would be inevitable anyway as less-efficient players exited the market. Even worse, in bankrolling the acquisition the company would be saddled with the lowest margins and the highest costs in the industry.
Alternatively, a rapid cost-reduction program could offer savings of 4 to 7 percent in manufacturing expenses. The company took the obvious path: It abandoned the acquisition and focused instead on its own costs.
Another example, involving a European manufacturer of parts for automobile seats, shows how analysis of cost competitiveness can create sustainable competitive advantage. The parts company had improved its cost position through various rounds of streamlining exercises, achieving impressive results each time and stretching the organization to its limits. Yet in every case, after a few months, the benefits were consumed in negotiations for new vehicle contracts or lost through price concessions in bidding wars against other suppliers.
Ultimately, the company poured substantial resources into researching its competitors' activities in terms of scale, technology, and the location of operations. From this, the company concluded that a radical standardization of components could clearly differentiate it from its rivals. Standardization, by reducing manufacturing complexity and increasing scale, would allow the company to slash prices for its primary customers.
Although wary of the risk that the market would reject its new tactic, the manufacturer opted to go ahead with standardization. It was a well-placed bet. On the wings of this strategy, the company became the global leader in its industry and outperformed its competition with such strong scale-based cost benefits that no competitor could possibly copy the technique and catch up for many years.
Path to Manufacturing Chief
The profile of manufacturing leaders is changing. Our survey showed that they have varied education credentials. Fifty-four percent of respondents hold degrees in technical studies, 30 percent in business administration, and 27 percent in other areas, including the natural sciences (some hold more than one degree). In our experience, this represents a higher number of individuals with a background in business education in this position than in the past — a positive sign, since manufacturing heads will increasingly be called upon to make strategic decisions.
Even more important is the diversity of roads that respondents took to reach their current positions. (See Exhibit 3.) Historically, the head of manufacturing was promoted from the shop floor or had some technical experience. Today, many companies want their head of manufacturing to have a broader range of experience, including, perhaps, a stint in marketing or finance. This approach makes it more likely that manufacturing executives will generate positive results by addressing a broader cross-functional agenda, rather than falling prey to a silo mentality.