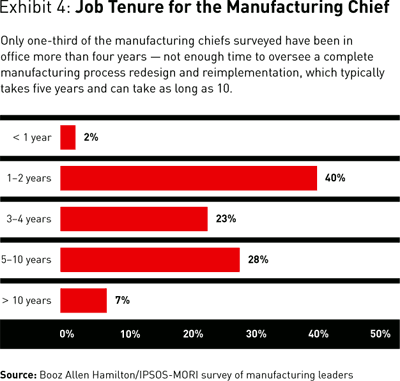 A lack of long-term perspective is evident in the limited amount of time that manufacturing chiefs devote to strategic decision making as opposed to daily fire fighting. (See Exhibit 5.) This is unfortunate, but not surprising. We have often observed that within manufacturing, strategy brainstorming is seen as a discrete process that happens once every three years, rather than what we believe it should be — an ongoing reflection on the business, on competitors, and on innovative approaches to solving problems within the function.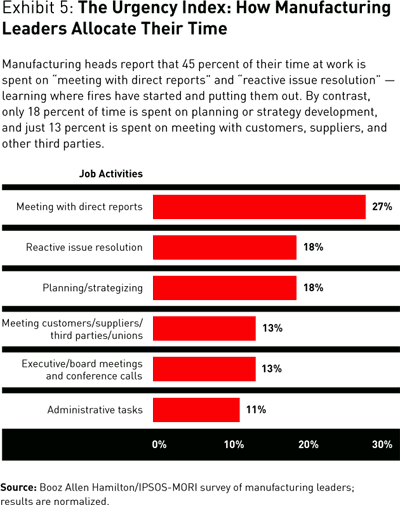 Another issue is the amount of meeting time that takes place internally as opposed to externally. More hours spent with suppliers, customers, and competitors can be a significant source of intelligence for manufacturing executives and help broaden their perspective. Manufacturing executives in a European chemical company, for example, sought out a few major customers to help them decide whether to open a plant in China.
Finding more time for reflective thinking in a hectic agenda can greatly benefit manufacturing executives, because many of their priorities are strategic, from implementing better manufacturing systems and methods to getting a better grip on integration with other functions. (See Exhibit 6.)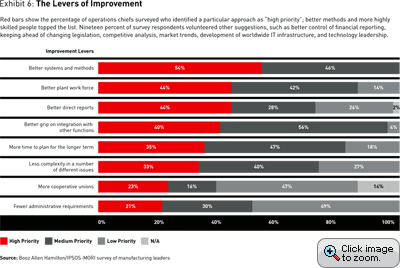 In fact, focusing on strategic issues can, in the long run, decrease the time necessary for operational and tactical problems. For example, consider the VP of manufacturing in one fashion apparel company who had been given responsibility for logistics, sourcing, and R&D, in addition to having seven plants under his control. As a former plant manager, this executive had always taken a very hands-on approach to management, involving himself closely in the day-to-day running of the plants. When he acquired the other functions, however, this style was no longer feasible: In less than three months, the poor executive was flooded with a backlog of routine problems to solve across all areas.
As it turned out, the time crunch was the best thing that could have happened to this executive and the management function. It forced him to let his plant managers worry about short-term problems while he devoted his time to long-term, strategic issues. He ended up rethinking the footprint strategy, revamping the product-allocation strategy, redesigning the format for key performance indicators (KPIs), and institutionalizing a management model that allowed him to selectively address problems in specific plants, at specific points in time, instead of trying to manage the whole network every hour of every day.
This attention to empowering his employees, leveraging analytics, and managing his own time appropriately paid off with positive results in terms of cost, quality, speed, and flexibility. "I really took the risk and faced the unpleasant sensation of not having my hands into everything," he said. "It seems to be working."
A Broad Agenda
Although there is no fixed set of criteria for the person who will fill the role of manufacturing head or for the duties required in that role, there certainly are qualities to look for. The new manufacturing leader must cover both "big-M manufacturing" (strategic planning, supply chain management, product design, capacity management, interplant coordination, plant scheduling, and work-force organization) and "small-m manufacturing" (cutting, shaping, grinding, assembling, and chemical processing). In addition to having the skills to oversee these tasks, this type of well-rounded "engine room" leader must have the business sense to understand and adjust the role of manufacturing in the context of the broader strategic needs of the company.
When a manufacturing organization is lucky enough to find this superhero, we have three words of advice: Give it time. Manufacturing represents a complex mix of physical and human systems; quick fixes are possible, but companies that aren't willing to invest time and resources now will end up paying later. That is why it's so important to have a transparent, company-wide agenda for the head of manufacturing, an agenda that recognizes the inherent trade-offs among cost, quality, speed, and flexibility.