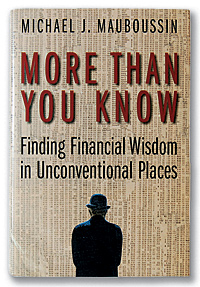 Investing Post-Buffett
Michael J. Mauboussin is an investment strategist who brings an investor's sensibility and a lust for new ideas to his book More Than You Know. Incorporating essays and letters he wrote for clients while at Credit Suisse First Boston, More Than You Know is far more technical than the other two books but pithier and by far the most useful — and therefore the best of the year.
Every serious investor or executive who oversees capital allocation or innovation investments will find every other essay in this book of direct relevance to his or her work. Reminiscent of Nassim Taleb's best-selling book Fooled by Randomness: The Hidden Role of Chance in the Markets and in Life (Texere, 2001), Mr. Mauboussin's essays are rich in probabilistic analysis and insight. His integration of behavioral finance theory, traditional investment analysis, and complex adaptive systems serves as the organizing principle for every chapter in the book. Unlike Mr. Warsh and Mr. Beinhocker, Mr. Mauboussin is writing for a particular kind of reader: investment-oriented but not as risk-savvy as he or she should be, open to ideas but skeptical, and unafraid of a little math but without a lot of time to read.
Although this is not a mathematics-oriented text, anyone who wants to get real value from reading it should have a pencil and notepad at hand — not to work out problems but to annotate the ideas. The book invites the reader to conduct "back-of-the-envelope" modeling of risk and value management. It's every bit as interdisciplinary as Mr. Beinhocker's book, but also addresses the core historic economic assumptions that Mr. Warsh surveys so well. More Than You Know not only complements those two books, it reinforces and deepens their central themes. But it does so from an unabashed investment perspective where risk and reward alone determine what gets written. Mr. Mouboussin examines Paul Romer's work, for example, from the standpoint of its investment implications.
Mr. Mouboussin clearly respects Warren Buffett's investment philosophies — who doesn't? — and his essays revolve around the notion that new theories of adaptive systems and risk assessment mean investors will literally have to reevaluate what fundamental means. His chapter titled "Strategy as Simple Rules," based on work by Donald Sull and Kathleen Eisenhardt, is a model of useful synthesis for investors and managers alike who look to "define direction without containing it." Do those rules reflect the same evolutionary rules Mr. Beinhocker discusses? Of course. But they're discussed from a perspective that illuminates both works.
Because this book is a collection of previously published essays, it's not as tightly constructed or as smooth as the others. Perhaps it is best read as a companion to books of broader sweep and greater depth. That said, the essays do speak directly to individuals who want their perceptions of risk and value shaken and stirred.
The timing of these three books is hardly coincidental. There's not just something in the air; ideas are swirling and software is running that have successfully called into question assumptions that have been sacrosanct for centuries. The good news is that these are great questions. The better news is that we're beginning to have great answers as well. That's why these books are worth the investment.

Author Profile:

---
Michael Schrage ([email protected]) is the codirector of the MIT Media Lab's e-Markets Initiative, senior advisor to the MIT Security Studies program, and the author of Serious Play (Harvard Business School Press, 1999).