The benefits of implementing Six Sigma in marketing are undeniable. But although Six Sigma for Marketing Processes effectively explains what to do, it doesn't explain how to do it. How do you implement suggested solutions, for example, if you are unfamiliar with Pugh processes (defined in an extensive glossary as a matrix consisting of "criteria based on the Voice of the Customer and its relationship to specific candidate design concepts")? The explanation of how would have been greatly enhanced with a few case histories. Smaller or resource-constrained companies in particular would undoubtedly like to know which of the text's many, many steps and analyses can be skipped.
Because of the great demand for accountability, someone is probably working on a practical book that outlines how Six Sigma can realistically be applied to marketing, backed up with actual case studies. Six Sigma for Marketing Processes, which pioneers the difficult task of applying Six Sigma to marketing, will undoubtedly be used as a primary resource for that book, but, unfortunately, it is not the handbook for accountability that marketing executives ultimately need.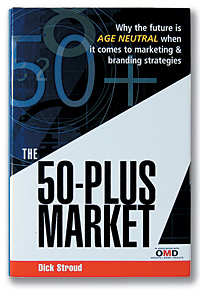 Finding Green in Gray Hair
Dick Stroud makes his heretical point on the first page of the introduction to The 50-Plus Market: "The principles of marketing to a 30-year-old are the same as marketing to somebody aged 75. Marketing theory is intrinsically age neutral."
Consider the mind-set of the typical marketer who will read that passage. The 18- to 35-year-old market has long been perceived as the biggest gift under the Christmas tree, prized by television advertisers and coveted by almost everyone in consumer markets. The reasons for this are engraved on several million slide presentations. That demographic slice has more disposable income. It is open to experimenting with new brands, whereas older consumers are more brand loyal (read "stuck in their ways") and less responsive to advertising. A brand becomes "cool" when blessed by this market.
No wonder most people with crow's-feet feel as though they have been put out to advertising pasture. Studies show that only 5 to 15 percent of advertising is aimed at the 50-plus market, even though this group represents nearly half of prime-time television audiences. According to surveys, the majority of those over 50 feel that advertising portrays them poorly and 86 percent feel that advertising does not relate to them.
But do the eternal verities concerning the 18-to-35 market still hold up? U.S. boomers, who did so much as consumers to shape marketing nostrums, have long since slipped over the outer chronological edge of this category, and markets in other countries are growing older too. China, which many see as a potential marketing gold mine, will soon start aging faster than any other country in history. Japan, Italy, and many other countries, especially those in Europe, also have aging populations. Efforts to capture and hold the senior market (defined here as anyone older than 35) will affect branding efforts, customer and product development, and even profitability.
If the clichés about the 18-to-35 market are hollow, then almost every creative storyboard will have to be redrawn: Senior markets can be retapped for new yields; boomers will have one more chance to rock the marketing world. In fact, one contributor to 50-Plus asserts, "The paradox is that the youth market is now the market of the past and the mature consumer markets are now, and will continue to be, the markets of the future." Mr. Stroud further argues, backed up by research from the global media group OMD and input from top marketers worldwide, that advertisers lose potential market share and profitability every time they look to chase baby faces instead of wrinkles.