But the biggest failing of this book and the other positioning clones is that it neglects accountability. Can any company claim that its positioning has improved 12 percent over last year or that its positioning is four times better than that of its nearest competitor? Without such metrics, the positioning theory has no accountability, and without accountability, there is no credibility with CEOs. Still, if you desire to know how to perform a marketing shibboleth, then this book provides a coherent, easy-to-follow road map.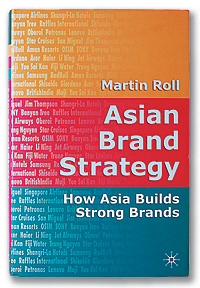 New Paradigm for Asia
The hottest topic in Asia is how to make what is called the OEM–OBM leap. In other words, how can Asian firms move from OEM (original equipment manufacturer) status — as the producers of all the brands displayed on Carrefour and Wal-Mart shelves — to OBM (original brand manufacturer) status, with the cachet, say, of a Lexus or a Sony? According to one study, fewer than 10 global brands originated in Asia.
Yet all the external elements are in place for original Asian brands to thrive. The disposable income of Asia's rapidly growing population rises each year. Asian firms that can meet demanding OEM requirements can certainly meet consumer requirements. Cheap money in most Asian markets makes capital easy to raise. The same cultural forces — movies and television — that once propelled U.S. brands overseas are now exposing Asian brands worldwide, thanks to the global popularity of Japanese anime, South Korean soap operas, and Hong Kong and Taiwanese movies.
In Asian Brand Strategy: How Asia Builds Strong Brands, branding consultant Martin Roll attempts to explain why the number of Asian brands is not commensurate with the region's economic, manufacturing, and consumer power. The reasons include an insufficient understanding within Asian companies of the value of branding, an overemphasis on short-term results, and a focus on marketing tactics rather than on strategic branding. Mr. Roll perceptively observes, "Most Asian firms still view branding as advertising or logo design." Other factors include lack of intellectual property protection and little innovation in product development.
To ensure that Asian branding power matches its economic power, Mr. Roll suggests "a new paradigm for the Asian boardroom." A brand-driven organization, he notes, has three traits: the right boardroom mind-set, appropriate organizational skill sets, and sufficient organizational and financial resources allocated to branding. The creation of the new paradigm requires that a company shift from viewing branding as a marketing function to seeing "branding as the DNA and most essential function of the firm led by the boardroom," and that it develop a better understanding of consumer behavior, abandon colonial imagery of the past, become a trendsetter, and align organizational functions behind the importance of branding.
The book's most interesting chapter looks at how contemporary Asian dynamics affect original brand manufacturing. Many Westerners still see Asia archaically as made up of peasants, pagodas, and Buddhist priests, but it is now modern and extremely urban, characterized by a mosaic of cultures and a willingness to look East instead of West for ideals. Other factors include a large rural–urban divide and a substantial Islamic presence. Finally, Asian social structures and mores are different from those in the West: "The Western need for self-actualization is replaced in the Asian context by social needs of status, admiration and affiliation. Autonomy and independence are not as important or at least do not have the same connotations as in the West." Because of the multiplicity of languages, cultures, and religions, social in-groups are extremely important.
Mr. Roll outlines 10 steps to building an Asian brand, beginning with "the CEO needs to lead the brand strategy work." Thereafter, he advises companies to "build your own model as not every model suits all," "involve your stakeholders including the customers," "advance the corporate vision," "exploit new technology," empower people to become brand ambassadors," "create the right delivery system," "communicate!" "measure brand performance," and "adjust regularly — be your own brand agent." This list represents excellent advice for all companies, not just Asian ones.