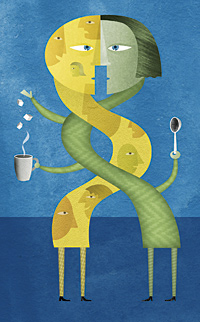 Heather Chaplin and Aaron Ruby,
Smartbomb: The Quest for Art, Entertainment, and Big Bucks in the Videogame Revolution
(Algonquin Books of Chapel Hill, 2005)
Glenn Reynolds,
An Army of Davids: How Markets and Technology Empower Ordinary People to Beat Big Media, Big Government, and Other Goliaths
(Nelson Current, 2006)
David A. Vise and Mark Malseed,
The Google Story: Inside the Hottest Business, Media, and Technology Success of Our Time
(Bantam Dell, 2005)
Chris Anderson,
The Long Tail: Why the Future of Business Is Selling Less of More
(Hyperion, 2006)
---
When cultural or technological changes create the need for a term to include a modifier to make its original meaning clear, the new phrase is called a "retronym." Some examples are analog clock, birth mother, and snail mail. Another is mainstream media, a term now used to describe what we used to think of as simply media.
The reason we need that last retronym is, of course, the Internet. The Web gives everyone an outlet and creates a platform that makes little distinction between the multi-Pulitzered New York Times and a blog created last week by your next-door neighbor. All that separates them is money, history, and reputation. But in a world where many viewers get their news from Jon Stewart's Daily Show, where a blogger brought down a giant of journalism like Dan Rather, and where the Times has suffered its own share of bruises, history and reputation are a double-edged sword. Technological change led to the last wave of media-related retronyms, and now two cultural forces are fast altering the media landscape: fractionalization and wikification.
The most compelling media writing of the year addressed how these two powerful, apparently unstoppable, and seemingly opposing forces are shifting the tectonic plates beneath the foundations of the industry. Fractionalization is media's answer to Starbucks; every individual can come up with his or her own special combination of ingredients. As a result, we now live in a world of microhits and microcelebrities, where almost everyone is both a consumer and a creator of content. Meanwhile, wikification is bringing people together independently but collaboratively on an unprecedented scale to create and refine content of every conceivable sort. Hordes of volunteers have built Wikipedia into a reference tool with 10 times as many entries as the Encyclopedia Britannica and a surprisingly high level of accuracy.
Those who will thrive in this new environment understand that the forces of fractionalization and wikification are neither contradictory nor complementary, but intertwined. The most popular sites on the Internet, such as MySpace, eBay, and Amazon, succeed because stunning amounts of their content and structure are created and maintained by independent individuals at no cost to the company. Each user gets a highly individualized experience made possible through the participation of all users. The most significant challenge for all businesses in the next few years will not be responding to fractionalization and wikification, but rather mastering them to create a specific personalized interface that leverages the participation of everyone.
This year's best media books describe the principles well. It is not a coincidence or an oversight that none of the titles on my list focus on traditional media. Some good books did come out, filled with careful reporting and serviceable assessments of the ups and downs of network television and movies. But they all seemed a little antiquated and backward-looking.
The books I have selected have their flaws. All four of them feel padded and are overenthusiastic, even Panglossian, about their pet theories. But each is worth thoughtful attention, and together they provide a context that media businesses can and should factor into their strategic thinking.