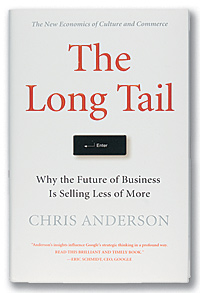 Fractionalizing Amateurs
The Long Tail: Why the Future of Business Is Selling Less of More, by Wired magazine Editor Chris Anderson, really has only one point to make, and it's stated in the title. But it is a crucial one, and Mr. Anderson is a lively writer with some great examples. Mr. Anderson says we have witnessed the end of the culture of blockbusters, as markets fragment into countless niches. Today's top-rated television shows and music, for example, get nowhere near the market penetration of the top-ranked comparable media in the 1970s. The Internet has enabled smart entrepreneurs to bring niches within reach of the consumer, revealing latent demand for otherwise noncommercial content.
This year's best and most influential media title, The Long Tail describes how "infinite shelf space" and "abundance" on the supply side of the economy — think Amazon and Netflix — are transforming the expectations of the demand side. Hits, says Mr. Anderson, will always be important. They serve as a source of common culture around which narrowly targeted markets can form. That is, hits are surrounded by clusters of "micro-hits" that are popular enough to be profitable. Mr. Anderson then shows how the concept of the management of scarcity is changing. Currently, for example, the manager of even a very large bookstore must cope with limited shelf space by allocating it to the books that are likely to sell the most copies. But technology has created an economics of abundance: Amazon's cyber "shelves" contain every book in print, and every CD and DVD as well.
Netflix and other online sellers also have unlimited shelf space. People can get exactly what they want, and, as it turns out, they want everything. Amazon and Netflix have reversed the statistics of their bricks-and-mortar competition. At conventional stores, 68 percent of the sales consist of the 100 most popular products. At Netflix, meanwhile, 62 percent of the rentals are "micro-hits." Every single one of Netflix's 55,000 titles rents at least once a quarter. Even if Blockbuster could stock all of those titles (the typical outlet offers 3,000), the discs might languish on the shelf because customers looking for a quirky foreign drama wouldn't put in the considerable effort it would take to find it.
Netflix helps create demand for niche titles by making it easy for customers to track down what they want and by making recommendations based on the customer's past choices. Netflix combines infinite shelf space with real-time information. And that information comes from the company's other customers, who provide not only their rental data but also their opinions, which, it turns out, other consumers like to read and use. Mr. Anderson says the process boils down to three steps: Make it, get it out there, and help me find it. The increase in the range of choices on television has made it very difficult for viewers to find exactly what they want. What is needed is a Google for television to eliminate that frustrating march through the stations and to give audiences an easy way to find what is most likely to interest them.
Things are changing so rapidly that it is not surprising that the most provocative and insightful writing on the media business I saw this year was not in a book but in two magazine articles: John Cassidy's "Me Media" (New Yorker, May 15, 2006) and Philip Weiss's "A Guy Named Craig," about the founder of Craigslist.com (Jan. 16, 2006, New York magazine). Both were more than lively and astute descriptions of astonishing success stories; they were indicators of new business models and harbingers of potentially devastating collateral damage to MSM.