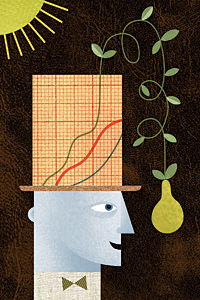 Andrew Campbell and Robert Park,
The Growth Gamble: When Leaders Should Bet Big on New Business — and How They Can Avoid Expensive Failures
(Nicholas Brealey, 2006)
Vijay Govindarajan and Chris Trimble,
10 Rules for Strategic Innovators: From Idea to Execution
(Harvard Business School Press, 2005)
Jack G. Hardy,
The Core Value Proposition: Capture the Power of Your Business Building Ideas
(Trafford, 2006)
---
Today, growth occupies a top spot on most management agendas, and it is no wonder. Extraordinary gains in revenue and profits are a defining characteristic of the companies that achieve the most definitive (and elusive) standard of success: above-average returns to shareholders. To meet shareholders' demands for revenue and earnings growth, managers are increasingly looking outside their core business for growth opportunities — particularly through the creation of new businesses and acquisition of potential growth platforms.
But the sad truth is that most such attempts to grow fail. In fact, the value destroyed by failures generally outweighs the value created by the occasional success. Growth through acquisition of additional "legs" is an example. Although acquisitions tucked into a company's current core business often create value through new avenues of growth, numerous studies have documented their substandard returns. An even more problematic approach, "let a thousand flowers bloom" — spawning numerous innovative ventures with the expectation that a few might succeed — can destroy the most value. Thankfully, this method, popular at the height of the dot-com bubble when corporations tried to ape venture-capital firms, has largely fallen out of favor. Unfortunately, a somewhat abridged version based on the hope that "if we plant it, it will grow" lives on in general calls for business model innovation. Like its forebear, this approach has produced few successes but many value-destroying costs.
Why do all these initiatives fail? In part, because the development of valuable new businesses is the toughest challenge in business — far more difficult than sustaining an existing enterprise. Existing businesses benefit from inertia: customers won't switch unless they are given a good reason, few employees leave voluntarily unless their compensation falls significantly below market rates, and returns on sunk investment may persist at substandard levels as long as a company can't generate more cash by selling the assets. In contrast, rapid growth requires a dramatically superior value proposition that gives customers of other companies a reason to switch, sufficiently attractive compensation to attract large numbers of new employees, and returns on capital that draw new investors. Our own research shows that rapid growth typically requires a company to be about 20 percent better than would be required to sustain the business.
The other principal reason, in our view, is the lack of an effective strategy. Most new businesses (or acquisitions to establish a growth platform) are launched with little more than a high-level concept and a commitment to create a more "agile, innovative" organization: "If you plant it, it will grow." But successful businesses don't just grow. They are developed with intentionality and ongoing decision making to enable adaptation and learning. More than just organizational imperatives or a high-level concept, a powerful strategy must answer key conceptual and operational questions: What is the new business's primary objective (not just a financial target, but something grounded in the underlying economics; e.g., reliable, low-cost commuter travel)? What will the initial business model look like? (Or, for existing businesses, What changes to the business model should be made?) And how will each aspect of the business model maximize the probability of success? Finally, because successful business model innovations rarely turn out exactly as planned, fleshing out the initial model is only one part of the operational decision making. Establishing an ongoing decision process for how the initial model will adapt and change is essential to improving its chances of success.