Unfortunately, most currently fashionable theories of strategy aren't this specific. Many writers seem to be satisfied with the near-tautology that being a sufficiently agile innovator yields great results, and dismiss any company with poor results as a poor innovator. Tautologies don't help managers deliver better performance.
Fortunately, three current books offer valuable insights for growth through new business innovation. Anyone involved in business innovation will benefit from the practical guidance and case studies offered in these titles.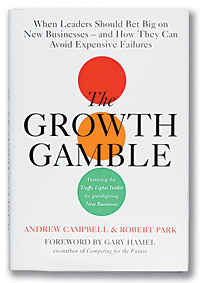 The Conceptual Approach
The Growth Gamble: When Leaders Should Bet Big on New Business — and How They Can Avoid Expensive Failures opens with a sobering review of the experience of major corporations trying to launch a new business. It draws on the authors' broad statistical study, as well as in-depth reviews of various companies, to show how growth initiatives often turn into unsuccessful gambles. At Royal Philips Electronics, for example, 42 significant investments in new businesses over three decades produced five major contributors to shareholder value and 15 smaller successes (mostly part of divisional new business efforts), but the total expenditure for these new businesses probably exceeded the value of the successes.
Authors Andrew Campbell and Robert Park urge caution, encouraging managers to focus on growing the core business and to resist committing to new business innovation merely because growth is slowing. For corporate leaders who decide to gamble, however, the book includes a database of 54 examples of significant new businesses created by 44 different companies. The authors suggest four "traffic lights" for determining whether a growth initiative is strategically sound. Don't proceed if any of the traffic lights is red; look for business opportunities where most of the traffic lights are green; treat yellow lights as a caution.
Do we have a significant advantage (green), small or uncertain advantage (yellow), or significant disadvantage (red) in this new business?

Is the profit pool unusually profitable (green), average (yellow), or paltry (red)?

Do we have leaders (and sponsors in the parent company) who are clearly superior in this new business (green), comparable to competitors (yellow), or relatively weak (red)?

Is the impact on our existing businesses likely to be positive (green), uncertain (yellow), or negative (red)?
Although none of the traffic lights may seem novel, the real power of The Growth Gamble lies in the detail that it offers about how to evaluate each stoplight. To assess value advantage, for example, look at the unique contribution of the business you want to start, compare it to the value of the competition's offerings, and then consider the possible value in trading your business off to someone else. (Collecting a royalty can capture most of the value of a company's unique contribution without the risk of developing a business.) Also consider the inevitable cost — to both your operating staff and your corporate team — of learning any new business.
The Growth Gamble offers some interesting insight about how successful business innovations achieve their objectives. Not surprisingly, most of the successful new businesses Mr. Campbell and Mr. Park studied were near-adjacencies to the core business. But it was a relatively small majority — about 60 percent. Another 15 percent grew out of "saplings": activities that were already under way but weren't yet considered core business, like Hewlett-Packard's computer business (started to provide a reliable supply of minicomputers to support HP's test business) or Boots's line of over-the-counter pharmaceuticals. Another 15 percent of the successes were "rare games," where demand outstrips supply for many years and the main advantage comes from investing early, like Barclays' early entrance into credit cards. Because most managers look for near-adjacencies when exploring growth through new business innovation, the large number of successful alternatives suggests other attractive opportunities.