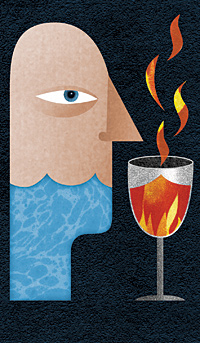 Joseph L. Bower and Clark G. Gilbert, editors,
From Resource Allocation to Strategy
(Oxford University Press, 2005)
Christopher D. McKenna,
The World's Newest Profession: Management Consulting in the Twentieth Century
(Cambridge University Press, 2006)
John Kay,
The Hare and the Tortoise: An Informal Guide to Business Strategy
(Erasmus Press, 2006)
Jeffrey Pfeffer and Robert I. Sutton,
Hard Facts, Dangerous Half-Truths, and Total Nonsense: Profiting from Evidence-Based Management
(Harvard Business School Press, 2006)
Kirk Snyder,
The G Quotient: Why Gay Executives Are Excelling as Leaders…and What Every Manager Needs to Know
(Jossey-Bass, 2006)
In a 1982 article in Fortune magazine, management writer Richard Pascale described "grand strategy" as a kind of "firewater" for corporate chieftains. Once-in-a-decade management fads like "reengineering" in the 1990s and "rank-and-yank" performance appraisal systems in the 2000s have encouraged binges among managers, often to be followed by monumental hangovers. There was little "firewater" in management books in 2006, but the selection here addresses more refined palates. There is an ongoing tension between the need for managers to take rapid, effective action and the unique complexities of every organization.
As evidenced by this year's crop of Best Books, management writers are beginning to ask the right questions about how hard, scientific evidence can inform management, and a theory of context is starting to take shape. It will be a long wait for practitioners: The demand for rapid action often precludes the search for evidence. On too many occasions, however, managers act hastily and for all the wrong reasons, principally aggression and impatience, often induced by the consumption of firewater.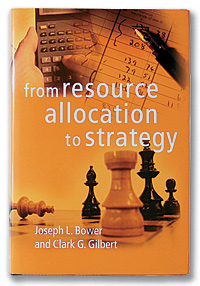 How Managers Make Strategy
The organizational context in which strategy is developed is at the core of From Resource Allocation to Strategy, edited by Joseph L. Bower, the Donald Kirk David Professor of Business Administration at Harvard Business School, and Clark G. Gilbert, faculty member of the entrepreneurial unit, also at Harvard. The book, which is oriented toward readers who enjoy conceptual frameworks, takes as its starting point Professor Bower's 35-year-old model of the resource allocation process. It looks at how managers actually develop organizational strategy rather than how they ought to develop it. This model was radical in its day; many of the leading strategic thinkers of the 1970s espoused a top-down process of formulation followed by implementation — structure followed strategy. Professor Bower's model turned that perspective inside out.
One early conclusion of his studies was that strategy is driven by three things: the way in which an organization allocates its resources, its structure, and the ways it measures and rewards its managers. Professor Bower saw the allocation of resources as an evolutionary process rather than as a one-time event. The book details the development of this perspective and, along the way, it incorporates the perspectives of academic luminaries such as Harvard Business School's Clayton Christensen, INSEAD's Yves Doz, and Stanford University's Robert Burgelman.
The value of this title is that it gathers together the theory and evidence for an unusually rich view of strategy making. In the original resource allocation process (RAP) model, three levels of managers were simultaneously involved in strategy making: those at the operating levels, who were exposed to the opportunities and anomalies that are the raw materials of strategy making; those at the top, who had formal responsibility for making strategic decisions (often based only on financial forecasts); and the middle managers, who acted as the firm's internal merchant bankers — go-betweens, who championed initiatives from those below by putting their own reputations on the line with those above. These levels remain in the revised RAP model, but the processes that operate up and down and across time have been greatly elaborated.