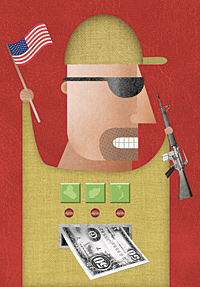 Colonel Gerald Schumacher,
A Bloody Business: America's War Zone Contractors and the Occupation of Iraq
(Zenith Press, 2006)
Robert Young Pelton,
Licensed to Kill: Hired Guns in the War on Terror
(Crown, 2006)
Christopher Kinsey,
Corporate Soldiers and International Security: The Rise of Private Military Companies
(Routledge, 2006)
In 1974, best-selling author Frederick Forsythe published the novel The Dogs of War, about mercenaries hired to overthrow the leadership of an African republic. Over the next quarter century, hired guns did indeed try to overthrow a number of African governments — generally at the behest of investors or foreign states. These attempts proved to be failures; one, involving arms sales that violated a United Nations embargo in Sierra Leone in 1998, was a disaster that almost brought down the British government. Ironically, the central figure in that episode, retired British Army Lieutenant Colonel Tim Spicer, later became head of a British firm that won the single largest American security contract in Iraq.
Today, mercenaries, as well as their far more respectable cousins, private military companies (PMCs), have become a fixture on the international stage. PMCs generally operate aboveboard, generally as extensions of the governments that have contracted for their services. Yet a good number of PMC employees who operate in the field, as well as the many firms and individuals that the prime contractors hire as subs, reflect a wild side that has variously been viewed as romantic and adventurous, or as simply dangerous. This year, in the context of war in the Middle East, but with the entire world as their backdrop, three new books have been published to portray and make sense of the "dogs of war." Although they might not ordinarily be considered business books, they chronicle the rise and influence of one of the most significant forms of private enterprise today — and if for no other reason, this places them among the best business books of 2006.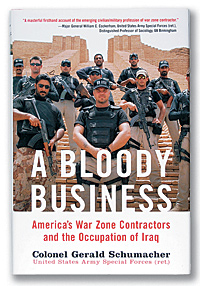 Growing Role
Gerald Schumacher, a retired Army Special Forces officer, dedicates A Bloody Business: America's War Zone Contractors and the Occupation of Iraq to "the memory of Wolf Weiss, the consummate warrior." But Mr. Weiss was no ordinary contractor earning his keep in Iraq. He was, instead, a former Marine and rock musician who made no bones about why he had gone to Iraq: "When you're getting shot at and returning fire, it's the same, regardless of who you're working for — the adrenaline, the chaos, the sheer horror at times," he told a reporter for Rolling Stone magazine. "There's always a void to fill with me. I'm an adrenaline junkie of some kind." That article was published in September 2004, two months before Mr. Weiss was killed in an ambush in Mosul on his way to drive two United States Embassy officials to Baghdad. Colonel Schumacher clearly admires the brave souls who escort supply convoys into Iraq from Kuwait, transport VIPs from one Iraqi locale to another, and provide security details for local Iraqi and American officials. Wolf Weiss is not his only hero: He also dedicates his book "to all the men and women who do not wear a uniform yet go into harm's way to serve our country."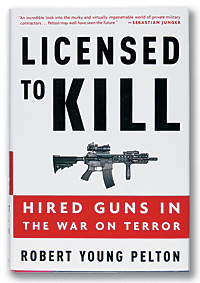 Like Colonel Schumacher, Robert Young Pelton — a journalist who traveled to both Iraq and Afghanistan to research Licensed to Kill: Hired Guns in the War on Terror — writes in a breathless style laced with clichés, buzzwords, and expletives. But in stark contrast to A Bloody Business, Mr. Pelton takes a dim view of Wolf Weiss and his ilk. He claims that the Rolling Stone article helped crystallize the image of private military contractors as bloodthirsty, gun-toting, hyped-up freaks terrorizing Iraqis. Perhaps. But the real question that readers need to consider with respect to private security contractors, whether in Iraq, Afghanistan, or elsewhere, is whether these organizations help countries that employ them win, or lose, the wars in which they become enmeshed.