One of the strongest recent trends affecting CEO succession has been the cyclical increase of activity in mergers, acquisitions, and buyouts (all classified as "merger-related successions" in our study). Overall, the percentage of CEOs who left because of a merger was 2.8 percent in 2005 and 3.2 percent in 2006, up from a nadir of 0.8 percent in 1995. CEOs who leave for merger-related reasons, however, make up a much larger proportion of departing CEOs — 18 percent in 2005 and 22 percent in 2006. This is because every merger triggers a departure, but departures occur at only about one-tenth of nonmerging companies each year.
Merger activity varies widely. Merger frequency varies by geographic region, with the highest rates in North America and the lowest rates in Japan (only 0.7 percent of companies per year) and the rest of Asia/Pacific (only 1.1 percent). The frequency of mergers also varies cyclically. Among the years we have conducted the study, in North America, the annual rate of merger activity fluctuated from a low of 0.9 percent to a high of 4.6 percent. North America and Europe both experienced their highest level of merger activity in 2006. Over the full nine years of our study, an average of 2.9 percent of North American companies and 2.3 percent of European companies in our sample disappeared each year following a merger; CEOs who left for merger-related reasons made up 22 percent of all departing CEOs in both regions.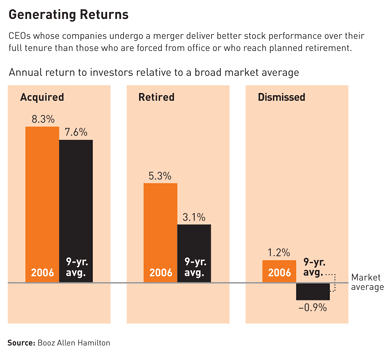 Our data shows that, on average, CEOs whose companies are acquired or taken private generate returns to investors greater than those of CEOs who reach planned retirement or are dismissed for poor performance. The same pattern appears in every region of the world.
Thirty-one percent of the North American CEOs and 33 percent of the European CEOs who created above-average returns for investors left the companies they'd led for merger-related reasons. We call this phenomenon the merger multiplier.
Mergers generate such attractive returns not only because of acquisition premiums, but also because companies are usually acquired after several years of good performance. For example, from the time the final CEO takes over until 30 days before the merger is announced (before word leaks out and the stock price starts to increase), companies that are acquired produce annual returns to investors 6.3 percentage points per year higher than the average. Only 6 percent of companies merge that had taken a restructuring charge within three years of the end of a CEO's tenure, compared with 21 percent of companies that hadn't taken a restructuring charge.
In the exhibit below, we sort CEOs into deciles based on the returns investors earn during their tenure relative to a broad market average. For each decile, we report the proportion of CEOs who ended their tenure with a merger. The horizontal lines show the average proportion of mergers in North America and Europe. Notice that mergers were extremely common among the better-performing CEOs in the higher-numbered deciles, and uncommon among the poorer-performing CEOs in the lower-numbered deciles. (The spike in the second decile probably represents poorly performing companies acquired at a premium.)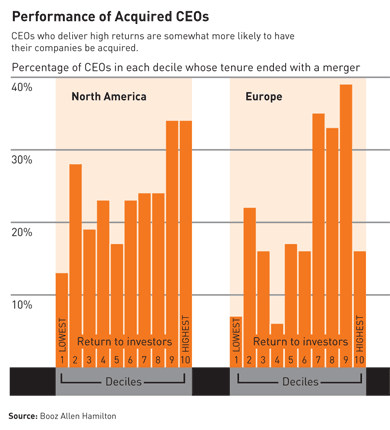 Because being acquired at a premium is such a common and effective strategy, investors demand that CEOs and boards embrace the possibility of merger. We're not saying that investors demand that companies try to be acquired or even demand that they accept any offer to be acquired at a premium. But boards and CEOs have to embrace the possibility that being acquired offers the best strategic opportunity for the company and for creating above-average returns to investors.
There's no doubt that some CEOs who create great returns for investors do it the old-fashioned way — by keeping their companies independent and building them into much larger and more valuable businesses: think of Fujio Cho and Tatsuro Toyoda at Toyota, Bill Gates at Microsoft, David Fuente at Office Depot, or Peter Johnson at Inchcape. But for nearly one-third of chief executives, selling the company is an element of a strategy to create great returns.
For outsiders brought in to turn companies around, exiting via a merger is a great strategy — creating superior returns by combining the benefits of the restructuring with the acquisition premium. Globally, only 17 percent of insider tenures end in a merger, but 27 percent of outsider tenures end this way. Similar patterns are observed in all geographic regions. For example, in North America, 22 percent of insiders end their time at a company by being part of an acquisition, compared with 32 percent of outsiders. Excluding mergers, insiders and outsiders deliver similar levels of performance for investors. But because outsiders are more likely to sell the company and because selling the company enhances returns, outsiders generate better returns to investors when mergers are considered.
Exiting via a merger is an especially attractive strategy for an outsider with strong restructuring skills. Although exiting underperforming businesses, significantly reducing costs, and forcing change in a corporation's culture are all critical tasks during the first two years of a turnaround, they're much less relevant to stimulating rapid growth and evolving the organization's culture in later years. As a result, outsider CEOs whose businesses aren't acquired usually deliver great returns to investors (much better than insiders) during the first few years of their tenure, and substandard performance in their remaining years. Selling the company once the turnaround is successful is a choice that takes full advantage of a CEO's up-front restructuring skills without requiring the CEO to be equally effective in driving long-term growth.
Some outsiders skilled in restructuring are serial acquirees, repeatedly turning around large companies and then selling them. Jim Kilts (Nabisco and Gillette), Michael Capellas (Compaq and MCI), Rainer Beaujean (T-Online and Terra Networks), and Jackson Moore (Regions Financial and Union Planters) are all serial acquirees. At least in our database, all outsider CEOs who sold a company they led sold any additional companies where they became CEO. Boards should recognize that by hiring an outsider turnaround specialist (especially if he or she has sold companies in the past), they are starting a process likely to result in the sale of the company.
— C.L., S.W., and R.H.