The imposition of the "financial expert" requirement per Section 404 of the Sarbanes-Oxley Act has reinforced a background in finance as the most desired quality in new board directors. In our SSBI supplemental survey, 75 percent of responding companies put this criterion at the top of the list. Many boards are discovering the benefits of having an experienced chief financial officer or retired accounting firm partner at the table. Also in high demand are directors with an international background (noted by 52 percent of responding companies), as well as those with expertise in technology (40 percent) and marketing (27 percent). Interestingly, despite the increased attention paid to executive compensation, only 5 percent of our respondents specified a need for human resources expertise.
As has been typical in recent years, women and minorities are coveted by boards, although their representation continues to fall short of desired levels. Sixty-two percent of boards surveyed in 2006 indicated that they were seeking minority group members as directors, and 54 percent indicated they were seeking women. In 2006, nearly one in four directors (23 percent) added to boards were women. Still, women constitute only 15 percent of overall directors, and minorities make up less than 14 percent of all board directors in a smaller sample of the 200 largest S&P 500 companies. But our own work with clients suggests that the picture is changing. Between 2000 and early 2007, Spencer Stuart placed more than 350 women and 200 minority group members on U.S. boards. In 2006, one-third of all board searches we undertook were for women and minorities, and one-quarter of our board placements were first-time directors, many of whom were women and minorities.
Ironically, perhaps the richest vein that boards have tapped in their search for director talent has been the "insiders," those who in the past would have served on their own company's board but who are no longer considered appropriate for that role. Their company's loss is another company's gain, one might conclude — but in many respects, the result is a win-win. These individuals, who are typically high-potential, next-generation CEOs, are often encouraged by their own companies to serve on an outside board for the breadth of experience and perspective. In fact, 19 percent of our survey respondents said they urge top internal CEO candidates to take on an outside public board directorship as part of their grooming process.
In addition to reaching farther down into public corporations to field promising up-and-coming executives, boards are clinging to sitting senior directors who bring years of experience and seasoned knowledge to the table. Although having a mandatory retirement age for board members is more common today than it was five years ago, some companies are extending that age. In 2001, only one-third (34 percent) of reporting boards had extended the retirement age to 72 or older. Five years later, nearly two-thirds (62 percent) had done so.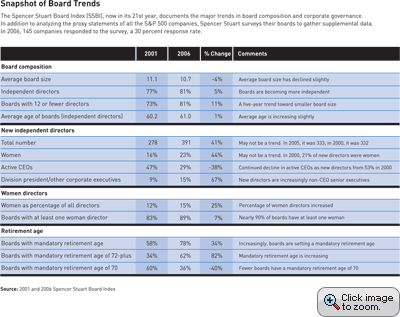 Building a Highly Evolved Board
All in all, corporate boards have responded to the crisis occasioned by the corporate scandals of several years ago with a series of swift, focused, and smart measures. They've conformed in short order to regulatory and legislative mandates, but they've also seized the opportunity to launch a more comprehensive and constructive review of their corporate governance structure, philosophy, and best practices.
Most importantly, they've begun to recognize the talent management opportunity before them. Now that compliance requirements are being addressed, boards can step away from their preoccupation with process and adopt a more strategic view of the member backgrounds and expertise needed to keep pace with ever-evolving marketplace demands. Companies that recognize the value that a high-performing board brings to the business will proactively identify gaps in their board's capabilities and develop a plan for closing those gaps. For some boards, that will require a shift in perspective from a short-term, tactical view ("We need a director to replace the one retiring in three months") to a longer-term strategic view ("What is the mix of capabilities we need to bring to the board over the next few years that will best support our business's success?").