Instead, deliberately design the costing approach as a self-reinforcing learning process for both buyer and supplier. Establish up front that, for each component, the ideal performance levels in cost, quality, delivery, and innovation are expected to continually change. For each component, suppliers submit a cost breakdown — that is, what they believe it would cost at their current level of productivity to produce the item. Working with suppliers, manufacturers reset this price on the basis of industry data, productivity benchmarks, and a competitive analysis. Ultimately, this process is meant to produce an "agreed-to cost" that is acceptable to both the manufacturer and the supplier, providing competitive cost and performance for the manufacturer and profit margins and stable volume for the supplier.
As they collaborate to achieve these continually changing performance goals, the manufacturer and supplier develop a manufacturing improvement plan together. This plan lowers the supplier's cost further over time while improving the quality of the output and the performance of the factory. The extent of the manufacturer's involvement depends on the supplier's capabilities and process sophistication. (See Exhibit 3.) Although more hands-on assistance may be required to fix quality issues and build capabilities at some suppliers, the most mature suppliers are largely self-directed in their continuous improvement efforts. Even with the most sophisticated suppliers, a consistent focus on open communication and mutual assistance between both parties helps reduce waste along the supply chain.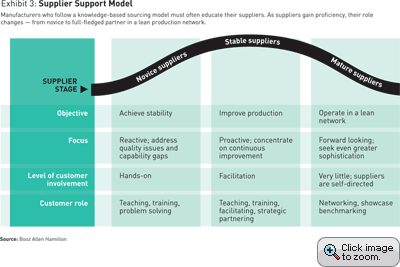 One fascinating example of this virtuous learning circle occurred in the late 1990s, when Toyota asked the ExxonMobil Corporation to produce motor oil at 30 percent below its bid. At first, the oil giant was convinced this was impossible and told Toyota management so, adding a few choice words about what the automaker knew — or didn't know — about motor oil. However, six months later, after exploring Toyota's offer more closely, ExxonMobil had a change of heart. It turned out Toyota was right, and ExxonMobil agreed to the deal and used the knowledge gained from it to improve its cost structure for all its jobs. ExxonMobil likely would never have realized this performance reward without the benefit of Toyota's sourcing model. It had helped that Toyota's executives were willing to challenge established attitudes. Indeed, this kind of capability for constructive challenge will make more of a difference to a knowledge-based sourcing initiative than any number of borrowed best practices.
3. Get it right the first time. Because the price-based system favors cost reduction over quality, it often leads companies to launch products on deadline but with unresolved flaws — which must then be corrected in subsequent releases, recalls, and updates. Engineers often end up tinkering with aspects of the post-release product, sometimes for months, trying to justify the additional retooling costs by arguing that the changes will add product value. Some manufacturers even demand from suppliers the option of reengineering products after launch, billing the requirement as a cost-reduction measure.
But no matter how it's justified, the net effect of the price-based system is to raise costs — for three reasons. First, it sanctions sloppy engineering; if suppliers know that redesigns are likely, they may feel less pressure to insist on flawless engineering the first time. Second, and more pragmatically, suppliers figure out the game very quickly; they build in features that will then be removed to give the appearance of saving costs. One designer at an automotive company said in a moment of candor, "I always overdesign the product so I can hit my cost reduction targets after launch." Third, when overhead and marketing costs are factored in, engineers working on an already launched program create only a third of the value of those involved in a new effort.