The Numbers
Overall, this year's Global Innovation 1000 continued a trend of R&D spending increases that goes back to at least 1999. At $447 billion, the total amount spent on innovation by this group in 2006 was more than double the 2006 gross domestic product of the Republic of Ireland, and it represents fully 84 percent of worldwide corporate R&D spending (which is estimated to be $540 billion; see Exhibit 1). Total spending by these companies was 10 percent greater than the 2005 total of $407 billion, which is a growth rate double that of the previous five years. In dollar terms, that increase is significant: Had the growth in R&D spending maintained its five-year average rate, that total would have been $20 billion less than its actual amount today.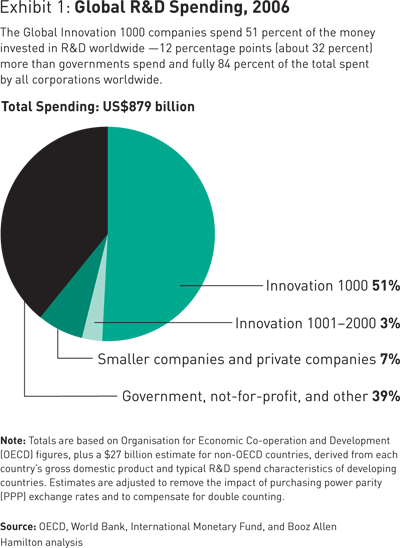 Meanwhile, the overall sales total of the Global Innovation 1000 — $11.8 trillion — grew just as fast, at 10 percent, a rate that tracks with the five-year average. That puts the 2006 ratio of R&D spending to sales, a measure of the intensity of a company's innovation efforts, at 3.8 percent, meaning that corporate R&D spending as a percentage of sales leveled off last year, ending a four-year decrease. (In 2001, it was 4.4 percent.) These findings run counter to the view that corporate innovation investment is declining. In fact, the overall growth in spending also makes it that much more critical for individual companies to be sure they're getting the most out of their innovation dollars.
This year, nine of our 10 industry sectors acceler­ated their R&D spending — only the automotive industry spend grew at a slower rate over the last year than its five-year historic growth rate. More intriguing were the changes in the geographic distribution of R&D spending. Companies headquartered in North America increased their absolute R&D spending by 13 percent, accounting for most of the growth among the Global Innovation 1000. China and India continued to lag in intensity, with a spending level of only 0.8 percent of sales, reflecting the lower level of maturity in these markets and perhaps lower costs. But China and India may be racing to catch up; they continue to lead all geographic regions in the rate of growth in absolute R&D dollars spent, at more than 25 percent.
It's still unclear whether this year's growth in R&D spending represents a temporary high point or a long-standing trend. It clearly reflects the increased value that companies in every industry and every region around the world place on innovation. This shift may, in part, be a tribute to the growing belief that innovation is an engine for corporate growth, in a more and more competitive environment. Or it may simply reflect record corporate profits, which have allowed companies to put more resources into their R&D efforts. But more spending doesn't necessarily lead to smarter spending.
The Strategic Imperative
As noted, our statistical analysis of innovation strategies divided the companies we studied into three distinct strategy categories: Need Seekers, Market Readers, and Technology Drivers. (See Exhibit 6.)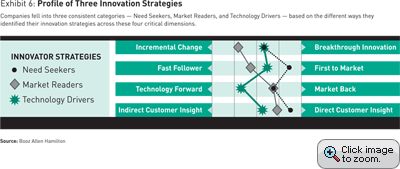 Companies in the Need Seekers category identified their innovation priorities as being first to market and basing R&D efforts on getting direct, proactive input from customers. Market Readers particularly distinguished themselves through their preferences for incremental change and being fast followers into markets. And Technology Drivers said they took a technology-forward approach to innovation while remaining less concerned with direct customer input into the process.
The companies favoring each strategy identified a different set of critical competencies and key processes for success (see Exhibit 7), but the highest performers in all three groups, as noted, all identified strategic alignment and customer focus as priorities. We also found several significant performance differences among the three categories. R&D spending among the Need Seekers was 40 percent greater than that among Market Readers, which can be explained by the Need Seekers' strong drive to be first to market. And their average gross margins were 20 percent greater than the margins of Market Readers, whereas Market Readers' operating margins were slightly higher. This suggests that being first to market may enable a company to price its products or services at a premium, but that, on average, the operating costs and risks associated with this strategy will remove some of those profit gains.