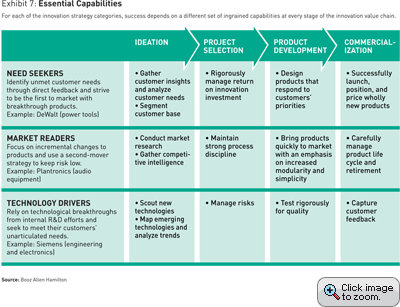 Even so, the stock markets appear to reward companies that strive to be first to market; average shareholder returns and market cap growth were more than 40 percent higher for Need Seekers. And although each group showed a similar mean value for return on assets, the standard deviation for Technology Drivers was 40 percent higher; this indicator of variability suggests that Technology Drivers pursue a riskier innovation strategy than the two other categories.
Each category has its performance pros and cons; none of them has any inherent overall performance ad­vantages over any other. What matters most is choosing an innovation strategy that matches the corporate strategy, aligning those approaches tightly, and then executing the innovation strategy successfully.
Given these distinctions, we looked more closely at four innovative companies, choosing at least one for each category. In in-depth interviews with senior R&D executives at these four companies, we asked how they designed and implemented their innovation strategies — especially in response to their overall corporate strategies, their market conditions, and the nature of their customers.
Need Seekers
John Schiech, president of Black & Decker's DeWalt division, has a valuable story to tell about the importance of paying close attention to your customers. "The best-selling miter saws on the market in the early 1990s cost about $199, and they all had 10-inch blades. Our guys went out and did some research, and found a lot of people building big colonial-style homes with big moldings. The saw blades cut only halfway through those big pieces of trim. So they had to pass a 16-foot piece of mold­ing out the window, flip it around, pass it back in, and make the rest of the cut. We realized that if we moved to a 12-inch blade, which required a completely different, much bigger saw, they could make these cuts in one pass. So we developed and launched the 12-inch miter saw, and charged $399. It became the number one–selling miter saw by a huge margin, and remains so to this day."
DeWalt's approach to innovation puts the company squarely in the Need Seekers category: generating ideas directly through close contact with customers, then using those insights to develop and test breakthrough products and get them into the market before competitors can. Thanks in part to the performance contributions of its DeWalt division, B&D was a high-leverage innovator in both 2005 and 2006 (the two years we have tracked "bang for the buck" in innovation), and the parent company employs many of the same innovation practices DeWalt uses, in an even more rapidly changing do-it-yourself market.
B&D started branding its professional power tools with the DeWalt name in 1991, reserving the name Black & Decker for its line of consumer tools and small appliances (such as toaster ovens and coffeemakers). That put DeWalt squarely in an extremely competitive market, with extremely demanding customers. Says Schiech, "In the commercial arena, the user really only cares about the product itself. He's always going to buy the best tools to do his job regardless of what brand it is. If you can produce the best product, the one that makes that contractor the most efficient, the most productive, and the most reliable, then you will win the business."
DeWalt's engineers and marketing product managers incorporate copious customer input at the front and back ends of the innovation process. They spend a great deal of time at job sites talking to people who make their living with power tools, observing how they work, gathering information, and ultimately putting it into databases of tool features and customer contacts that engineers can draw on to help design new products. Then, once prototypes of new products have been completed, those same engineers and marketers take them directly to the same job sites, leave the tools, and come back a week or so later to collect information on how they performed.