The Innovation Top 20
This year's list of the Top 20 spenders on R&D showed little change from last year. The only company new to the list is Merck, which increased R&D spending by more than 24 percent in 2006, while Sony fell out of the top 20 (to number 21). The Top 20 companies spent a total of $121 billion on R&D in 2006, up from $114 billion. That increase of 5.8 percent is the same as the increase of 5.8 percent in 2005, and is lower than the com­pa­nies' five-year average growth of 6.1 percent.
The relatively slow spending growth in this year's Top 20 can be attributed in large part to companies in the automotive sector: The average spend among the group declined 0.2 percent this year. Meanwhile, R&D spending among health-care companies — which includes Pfizer, Johnson & Johnson, GlaxoSmithKline, Sanofi-Aventis, Novartis, Roche, and Merck — grew an average of 11.3 percent.
Despite the slowdown in R&D spending growth among this year's Top 20, the group's R&D spending- to-sales ratio held steady, at an average of 6.9 percent. That's still more than double the average R&D-to-sales ratio of 3.2 percent for the other 980 companies in the Global Innovation 1000 this year.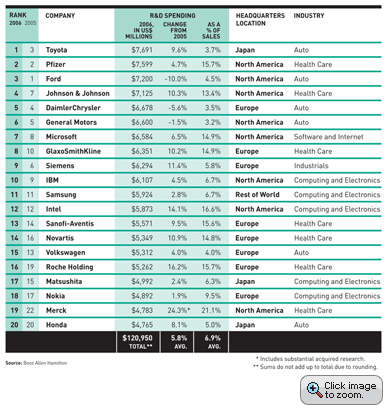 In this year's Global Innovation 1000, we identified 118 high-leverage innovators, who consistently reap the greatest financial reward for every dollar they spend on R&D. Over the previous five years, these companies had consistently outperformed their industry peers on a basket of performance indicators (sales growth, gross profit growth, gross profit, operating profit growth, operating profit, market cap growth, and total shareholder return) while maintaining a lower R&D-to-sales ratio than their industry medians. This year's list includes 60 new members and 58 of the 94 companies on last year's roster. The companies on this list are by no means the only high-performing companies in the Global Innovation 1000 — great performers can be found among companies that spend lots of money — but they are the most consistently efficient innovators.
One company that dropped off the list this year is Toyota, the largest-spending high-leverage innovator last year. Toyota continued to perform strongly in 2006, but its R&D spending rose 9.6 percent, to $7.7 billion, or 3.7 percent of the company's sales (the company's much-noted ventures in hybrid vehicles and auto electronics may have contributed to this figure). Because it is higher than the industry average of 3.5 percent, that level of spending kept Toyota from being included among this year's high-leverage innovators.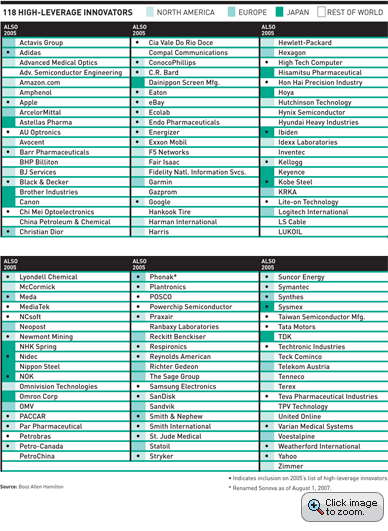 In preparation for this year's edition of the Global Innovation 1000, Booz Allen Hamilton identified the 1,000 public companies around the world that spent the most on research and development in 2006. To be included, companies had to make data on their R&D spending public; all data is based on the last full-year data reported up to June 30, 2007. Subsidiaries that were more than 50 percent owned by a single corporate parent were excluded because their financial results were included in the parent company's reports.
For each of the top 1,000 companies, we obtained key financial metrics for 2001 through 2006: sales, gross profit, operating profit, net profit, historical R&D expenditures, and market capitalization. All foreign currency sales and R&D expenditure figures prior to 2006 were translated into U.S. dollars according to the average 2006 exchange rate. In addition, total shareholder return was gathered and adjusted for each company's corresponding local market total shareholder return.
Each company was coded into one of nine industry sectors (or "other") according to Bloomberg's industry designations, and into one of five regional designations, as determined by each company's reported headquarters location. One category used in our previous years' studies (technology) was eliminated this year owing to reclassification and provision of more precise data by Bloomberg. To enable meaningful comparisons across industries, we indexed the R&D spending levels and financial performance metrics of each company against their industry median values.
To understand how innovation strategy affects performance, Booz Allen sent a survey to a subset of the companies on last year's list. The responses to this survey were analyzed using a variety of statistical methods. Although company names and responses were kept confidential (unless permission to use them was explicitly given), respondents identified themselves to allow the association of survey answers with financial metrics. Interviews were done with a subset of respondents.
Global expenditures on research and development were estimated using data from the World Bank, the Organisation for Economic Co-operation and Development, and the International Monetary Fund.