Five years ago, Dubai's Palm Island didn't exist. Where there are now three human-made land masses — the largest the size of a major city — arranged in the shape of a tree, five years ago there was merely the sparkling blue water of the Arabian Gulf. Then the government of Dubai decided to accelerate the diversification of its economy, from a purely oil- and trade-based system to a business and recreation hub designed to lure investors and tourists.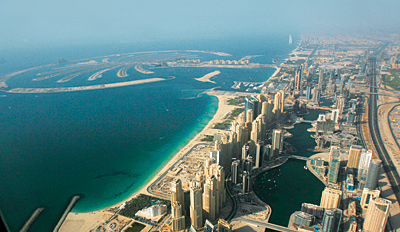 Dubai's Madinat Jumeirah resort. The Palm Island development can be seen extending into the Arabian Gulf.
Photograph © AFP/Getty Images
A few miles south, Abu Dhabi, the capital of the United Arab Emirates (UAE) and the world's wealthiest city, is experiencing an even more dizzying rate of growth. The US$3 billion, gold-domed Emirates Palace hotel was completed in 2005, ready to welcome visitors to the scores of world-class museums, universities, and hospitals that are slated for construction, at an esti­mated cost of $200 billion over the next 10 years. These fast-paced developments are part of the UAE's reinvention of itself as the cosmopolitan crossroads of a sleek new Middle East.
All this is one piece of a still broader story. In the past five years, the Middle East region has consistently been transforming into a hotbed of new private enterprise. The government-controlled monopolies of the past, such as the Saudi Telecommunications Company, are being deregulated and exposed to competition. Research and development in high technology is booming; enterprise zones have attracted the likes of Hewlett-Packard, Cisco Systems, and Microsoft. Local companies are investing in streaming video and other technological applications. Manufacturing, too, is on the rise. Driven in part by growing demand from China, the region's petrochemical sector is exploding, with more than 190 projects currently operating across the Gulf; its $28 billion biotechnology and pharmaceutical manufacturing industry has enjoyed double-digit growth each year. Many consumer packaged goods companies are opening factories in the region, in part to serve its growing middle class and in part to export goods to Europe and the rest of Asia. In short, the region — once an end consumer in the world market — has begun to transform itself into a supplier. All of this translates into unprecedented opportunities for investment.
Although political tensions in the Middle East often grab international headlines, relatively little has been written about a growing source of stability within the region: the rise of a diversified, open economy, no longer dependent exclusively on oil revenues. Thus far, signs of this shift have been like a view of a far-off oasis in the desert. An observer may fairly wonder, Is the growth that we see the result of visionary leadership or haphazard planning? Is this a fertile, sustainable oasis — or the deceitful promise of a mirage? Indeed, it may be difficult to reconcile military actions surfacing just a few hundred miles away with a newly opened factory, a just-built hotel, or an emerging middle-class community. What does it mean to the prospects of economic development? And yet, despite being largely unrecognized and underrated, the region's economic development continues to gain momentum. If this economic oasis can flower in the desert, it suggests the future of the Middle East is perhaps more hopeful, and certainly more complex, than many people suspect.
Skepticism and Sustainability
Many of the changes we see — especially those concerning deregulation and privatization — have been talked about in the abstract for some time, but seem to have become tangible only in the past four or five years. If this seeming mirage is real, then why now? What is spurring it?