He then drew a contrast between China's adroitness and "Western geopolitical incompetence." He ticked off the "disasters" of Western policymaking: the bungling in Iraq and Afghanistan, the failure of the Doha trade talks, and worsening global climate change. "What's the biggest obstacle to finding a solution to global warming? Reluctance in the U.S. to make the sacrifices needed," he said. "That's incompetence." As a fourth disaster he named the threat of nuclear proliferation. The U.S. has recognized Israel, India, and Pakistan as "semi-legitimate" nuclear powers. Now North Korea and Iran are following, seeking legitimacy as nuclear powers as well. "If the nonproliferation regime cracks," he said, "it will be a more difficult world."
It behooves the West, he said, to acknowledge Beijing's clout and engage China's leaders in developing a course of stability for the sake of the world. "Against the grand sweep of history," Mahbubani concluded in his speech, "this rise of Asia is for real, and it will last."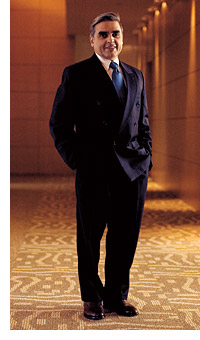 Leaders for the Asian Century
It's not hard to see where Mahbubani's world view comes from. He was born in India of Sindhi parents who fled the violent 1947 partition of India and Pakistan and settled in Singapore. Though he was raised in a city with a majority Chinese population and says that all his close friends are Chinese, Mahbubani's favorite singer is Mohammad Rafi, the now deceased Bollywood legend who is as important to Indian culture as Frank Sinatra and Elvis are to American culture. He keeps Rafi's CDs in the stereo of his gold Lexus and listens to them during his commute to work. "Even though I'm Hindu, I learned to write Sindhi in Arabic script. As a child, I could read Arabic," he says. "You cannot put people in cultural boxes."
His father was a textile merchant who could not feed his family, so Mahbubani abandoned the Indian tradition of sons taking up the trade of their fathers; instead, he became the first in his family to get a university education. At the National University of Singapore, he rejected the scholarship he won in economics, choosing instead to study philosophy — a decision that meant he had to work nights as a tutor to stay on for a fifth year of education.
K. Kesavapany, director of the Institute of Southeast Asian Studies, says Mahbubani's decision to pursue academics was remarkable. The Sindhi community in Singapore typically focuses on mercantilism, not intellectualism. "Kishore was one of the earliest in Singapore to break away from the mold and establish himself as a scholar," he says.
After he graduated with first-class honors in 1971, Mahbubani joined the foreign service and eventually became Singapore's ambassador to the United Nations in the 1990s, getting married twice along the way (both times to American women).
He was far from being the faceless civil servant that diplomatic tradition would dictate. As president of the U.N. Security Council, a rotating position, in January 2001 and May 2002, Mahbubani challenged the domination of the five permanent members (the U.S., France, the U.K., Russia, and China). Although his efforts to bring in a management consulting team from outside were stymied, he was able to effect real, if modest, reforms that included streamlining the process by which the Security Council issues reports to the General Assembly. Mahbubani was a serious contender to replace Kofi Annan as U.N. secretary-general, but he was unable to secure the backing of the United States. Nevertheless, "he was one of the giants and one of the key players at the U.N., on the list of movers and shakers, a man with lots of ideas, always bringing a new debate into the discussion," says Vanu Gopala Menon, who succeeded Mahbubani as Singapore's ambassador to the U.N. "He makes points more dramatically than some people do. He comes out very sharp." Adds Jean-Marie Guéhenno, the United Nations under-secretary-general for peacekeeping during Mahbubani's tenure, "Once you are known to raise issues, people come to you, because they know you are going to be a player in the discussion, and then you become more of a player. That's a great strength, to have the kind of mind he has. You can force the issues."