The executive director of the Hope Community Center is Bill Stallworth. In Megacommunities, the authors describe the role of an "integrative leader," someone who has experience or connections in the public, private, and civil sectors. Stallworth is exactly that type of leader. Currently the vice president of the Biloxi City Council, he is a three-term council member and a former urban renewal officer; he is also a local entrepreneur (founder of a thriving computer-services business and several other enterprises) and a former grant writer for the Joint Center for Political and Economic Studies in Washington, D.C. In the first year after the Katrina disaster, Stallworth was featured in a number of news reports for his efforts to find ways for local residents to use grandfathering laws and other means to offset the high costs of rebuilding.
When these photographs were taken, in December 2007, Biloxi's reconstruction efforts had been going on for more than two years. During that week, Stallworth and David Perkes, the director of the GCCDS, were using a megacommunity approach to work out a problem: A seriously disabled woman needs to rebuild a house on a plot of low-lying land. But the new regulations require that the new house be built so high off the ground that it would be inaccessible to her. Through a complicated series of discussions and moves, Stallworth set out to influence the city to trade land with the woman so that Perkes and his team (made up of architects from all over the country) might design a house that she could live in.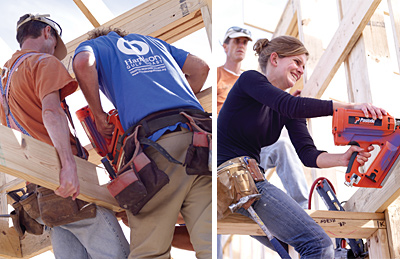 Above: During a "blitz build," many volunteers and organizations (here, Hands On, Hopeforce, and the Hope Center, among others) come together to feverishly build the frame of a house in one day.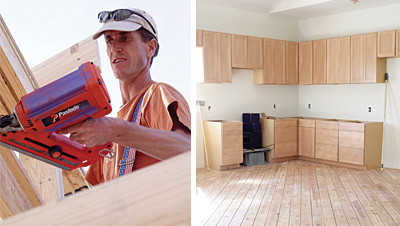 Above left: Brandon Kasteler is the center's construction manager. Above right, the kitchen of a house by Architecture for Humanity shows a diagonal flooring approach that is used to cut costs and increase stability.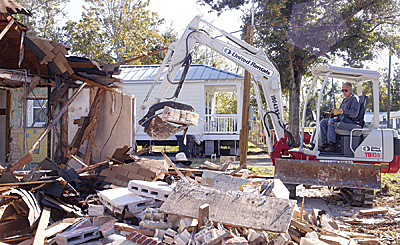 Above: A house that suffered substantial termite and water damage is demolished.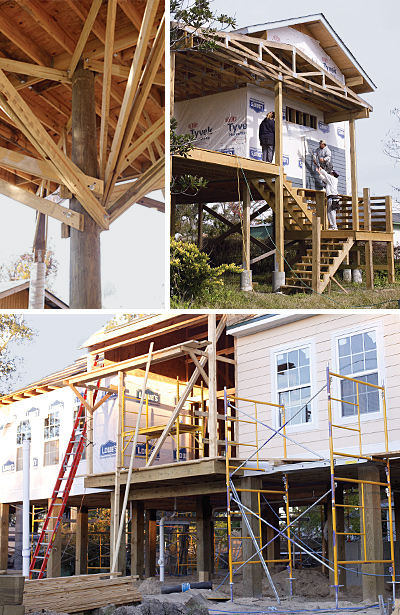 Above: Architecture for Humanity and the GCCDS employ various building techniques to ensure structural stability and ease of use for the families who will move in. Examples shown here include switchback stairs, which are easier to climb, and columns that extend from the ground through the roof.
According to Perkes, the center has 30 or so new construction projects going on at any one time, and 60 or so in a repair stage. Many of those new construction projects are being handled by the GCCDS. Meanwhile, the not-for-profit group Architecture for Humanity is building seven model homes that will serve as experiments in developing methods for construction that are hurricane proof, within budget, and cohesive with the architectural nomenclature of the existing community.
The headquarters of the Hope Community Center, a church that had fallen into disuse after Katrina, serves as the physical focal point for the megacommunity. The interior offices were planned by the GCCDS for easy flow and facilitation; clients (people seeking help) move front to back through the space as they confer with different center team members. There is also a central glass-enclosed meeting area — a hub within the hub — for consultations and planning.
In our view, the Hope Community Center is a great example of the factors that make a megacommunity successful. It has three-sector engagement: fully involved leaders and employees from government, businesses, and not-for-profit organizations working closely to­gether. It has an overlap in vital interests; though East Biloxi did not rapidly bounce back from Katrina and could easily have been marginalized, people from all parts of the city recognized the importance of rebuilding this neighborhood, for the sake of its residents, the city's reputation, and the region's overall ability to move
forward. It has convergence: the deliberate efforts of Stallworth, Perkes, and others to collaborate across organizational boundaries. It has cross-organizational teams and facilities, operating over a long period of time. And as people move beyond reconstruction to more aspirational goals, such as revitalizing the community in other ways, the Hope Center has adaptability.