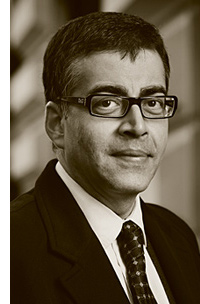 Photograph by John Madere
If you are a corporate decision maker, the clearest and simplest strategy is often remarkably appealing. Like Alexander the Great at the Gordian knot, you need only apply the right analysis, and ambiguous problems will swiftly cleave, the solution falling at your feet. When the problem is "globalization" — or, in business, how best to enter emerging markets — the most popular simple solution is summed up by the title of the bestseller by
New York Times
columnist Thomas L. Friedman:
The World Is Flat
. In the flat-world view, technology and international economic interchange have evolved to the point where sovereign boundaries hardly matter; people travel and invest more freely and widely than ever before; the number of potential customers is virtually infinite; and entrepreneurs can easily expand everywhere. Therefore, companies must avoid obsolescence by moving everywhere as rapidly as possible.
But the simplest solution is not always the most effective. So says Pankaj Ghemawat, the most prominent flat-world skeptic in business circles today. Ghemawat is the Anselmo Rubiralta Professor of Global Strategy at the IESE Business School at the University of Navarra in Barcelona, the Jaime and Josefina Chua Tiampo Professor of Business Administration at Harvard Business School, and the author of four books on corporate strategy. His most recent book is Redefining Global Strategy: Crossing Borders in a World Where Differences Still Matter (Harvard Business School Press, 2007). In this intricately reasoned inquiry, grounded in economic research as well as in interviews with CEOs and other strategists, he explores the successes and failures of international forays made by such companies as Coca-Cola, Wal-Mart, the PepsiCo spin-off Yum Brands, Cemex, Whirlpool, Jinro (a Korean purveyor of popular alcoholic spirits in Asia), L'Oreal, Asea Brown Boveri, Cognizant, and IBM. (The book is also reviewed in "Books in Brief," by David K. Hurst, s+b, Spring 2008.) Ghemawat's conclusion: The world is in a state of only "semiglobalization." A multinational expanding beyond its home country's borders will find success only when it recognizes and manages the critical differences among countries.
Even differences among close neighbors cannot be ignored. For example, Canada and the United States share a 3,000-mile peaceful border, a common language (in many places), and a comprehensive free trade agreement. But the amount of commerce within their own national borders dwarfs the trade between the two countries by a factor of at least five to one. Not that a 20 percent rate of economic interchange should be sneezed at; indeed, Ghemawat himself argues that a well-designed policy for international expansion can make all the difference to a company or a nation. But this policy must be constructed with attention to one's own strategic capabilities, the time it takes to expand organically, the culture and limits of the home country, and the particular requirements of the customers and industry. In other words, in-depth knowledge and solid business judgment make as much difference with a global strategy as they do with any other kind.
Ghemawat, the son of a bot­anist, spent part of his early life in a small town in India and part in a small town in Indiana (near Purdue University, where his father earned his Ph.D.). After entering Harvard as an undergraduate in the 1970s, Ghemawat remained to get a Ph.D. in business economics, be­came a protégé of strategy theorist Michael Porter and negotiation pio­neer Roger Fisher, and in 1991, at age 31, became the youngest ac­ademic ever to be appointed a full professor at Harvard Business School. He spoke with strategy+business in August 2007, during a break in the annual meeting of the Academy of Management in Phila­delphia. In person, Pankaj Ghemawat is a bit of a boundary crosser himself, combining academic formality, pragmatic business sense, and a habit of wide-eyed inquiry in the face of other people's assumptions. "I imagine him, like Galileo Galilei before the inquisition," wrote Nikos Mourkogiannis in the foreword to Redefining Global Strategy, "unable to keep from saying, 'But it does move around the sun!'"