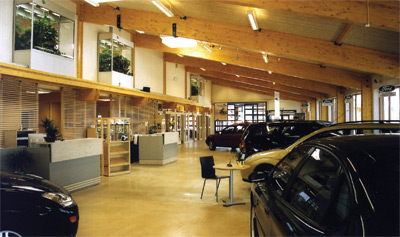 Photograph courtesy of Ford Dealership
An answer came when a foundation contacted him, wanting help in getting ethanol cars into the Swedish market. "I had driven ethanol cars in Brazil. For me, it was no big deal, but people said they wouldn't work in Sweden. It was too cold. The cars wouldn't start. There were no filling stations. There was no market for them."
After many inquiries, Carstedt found a person at Ford in Detroit who was in charge of a small flexible-fuel vehicle program. "It turned out his wife had been an exchange student here; he loved Sweden. He saw me as a potential ally, and helped [our dealership] buy three cars in 1995. Ford had no program for this and didn't even know we were doing it." When the cars generated little interest in Sweden, Carstedt persevered. He and a colleague from the Swedish Ethanol Development Foundation (later renamed the BioAlcohol Fuel Foundation) spent the next four years traveling from city to city until they formed a buyers' consortium of 50 municipalities, companies, and individuals committed to buying 3,000 cars.
In Carstedt's mind, he was "simply doing the next logical thing." But he was also doing what comes naturally for an entrepreneur. Instead of debating with manufacturers whether there was a market, or organizing more market research or academic seminars, he, in essence, arranged a field test. Along the way he was also getting others engaged — primarily local government officials — to help build momentum for his idea. Before long, the BioAlcohol Fuel Foundation was working in concert with scores of individuals and organizations.
But what good is importing cars that run on ethanol when no ethanol is available? By the time the foundation imported the first 50 flexible-fuel vehicles, Carstedt had persuaded only two filling stations, one in his home region of Örnsköldsvik and one in Stockholm, to install ethanol pumps. As they imported more cars, members of the BioAlcohol Fuel Foundation began a campaign of persuasion aimed at gasoline retailers, often coming up with the financing themselves.
"By 2002, we had 40 stations in the entire country, and in June 2004, we inaugurated the 100th. I think I was at the official openings of the first 50," he says with a laugh. The number of fueling stations doubled in 2005, doubled again in 2006, and reached 1,000 stations (25 percent of the nation's total) in August 2007. "The first 100 stations took 10 years to develop," Carstedt says. "Nowadays we add 100 stations every three months."
In the late 1990s, Carstedt set out to find a major auto manufacturer to help develop the next generation of ethanol-based automobiles for Sweden. In making the rounds, he realized that the manufacturers were not monolithic: "Companies are made up of individuals, and if you are lucky enough to find those who are like-minded, you work with them and support them — that's how to get things moving." The most sympa­thetic people, to his surprise, were not power-train engineers or biofuel researchers, but marketers. The vice president of marketing at Saab, for example, saw the promise of ethanol as a way to differentiate the company. "He convinced the technical guys," Carstedt says. Saab redirected money from a marketing budget to produce a small number of ethanol cars to test in the Swedish market.
All these initiatives, when combined, created a new fuel industry in Sweden. But Carstedt wanted to address the sustainability challenge more completely, because greenhouse gas emissions from transportation account for only about a quarter of all emissions. Opening a branch of the family car dealership in Umeå, a city in northern Sweden, he and an architect, Anders Nyquist, decided to "build the most environmentally friendly car dealership in the world." It would work like a natural system — recycling wastewater, conserving heat, and being as energy efficient as possible. The idea evolved into what Carstedt and Nyquist dubbed the "Green Zone," a block of businesses that included Carstedt's car dealership, a McDonald's restaurant, and a gas station (selling both gasoline and biofuel). Following the concept of industrial ecology (in which wastes from one industrial plant are used as supplies for another), they designed systems connecting the businesses — for example, piping excess heat from the restaurant kitchens to the car dealership and the filling station. Overall energy use dropped until it was only 20 percent of that used by comparably sized conventional retail neighborhoods.