The Performance Disconnect
Each year, we add new features and analyses to the CEO turnover study. For our latest study, with 10 years' worth of data for the world's largest 2,500 companies, we performed an expanded analysis of the relationship between the total shareholder returns that CEOs produce and their likelihood of being terminated by their boards. Because our annual studies have shown that the rate of CEO dismissals shifted upward from the 1990s to the 2000s — at the same time that regulators and shareholders were becoming more activist and many nations were enacting governance reforms and legislation — we expected to find evidence that boards were increasingly using stock price as a factor in assessing CEO perfor­mance. The data, however, shows only the weakest of correlations.
Our basic methodology since we began studying CEO turnover has been to identify the chief executives at each company who left their positions during each calendar year, and to analyze their careers and the stock-price performance of their companies during their entire tenure. In effect, we have provided a look back at each year's "departing class" of CEOs, and, in the aggregate, tried to determine factors contributing to the success of some and the failure of others. We have not, in previous years, compared the performance of companies that did not have a CEO succession. This year, we included all 2,500 companies and ran regression analyses for every year to determine which factors might increase the likelihood of a chief executive's continuing in office for a given year, and which might increase the probability of termination.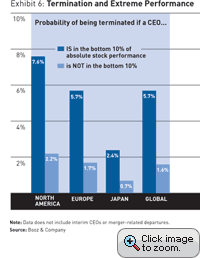 We found that only the poorest shareholder returns increase a chief executive's chance of being dismissed. For all CEOs, we found that the likelihood of being dismissed in a given year was 2.1 percent. The impact of performance was greatest for the CEOs of companies in the lowest decile of shareholder performance — those that had experienced an absolute loss of shareholder value over two years of 25 percent or more and that had underperformed their regional industry peers by 45 percent. The likelihood of dismissal for these CEOs was 5.7 percent. (See Exhibit 6.)
There is also no evidence that terminations have become more sensitive to performance over time: The likelihood of dismissal for poor performance was no higher in the last several years than it was in the 1990s. The data suggests that the likelihood of being termi­nated for poor performance does increase modestly with company size. This could be because the biggest companies are subject to greater scrutiny from financial analysts and institutional shareholders.
The implication of this analysis is that regardless of the fact that CEOs have been dismissed at a higher rate in the 2000s than in the 1990s, corporate boards are not forcing out CEOs who are delivering substandard performance for shareholders. Boards of directors may, in fact, be too focused on the next quarter's performance, as the critics of "short-termism" maintain, but if they are, it is not reflected in the rate at which they are firing chief executives.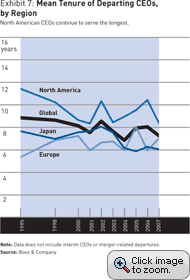 The Myth of the "Two-Year Rule"
The data on chief executive tenure also contradicts the contention that the pressure for short-term stock market performance has resulted in boards dismissing CEOs after two or three years. In the past, we have used mean tenure in our analysis, and mean tenure does show some decrease, from 8.8 years in 1995 to 7.2 years in 2007. But the decrease has been neither precipitous nor consistent. The record low tenure was in 2004 (6.8 years), but mean tenure then bounced back to 7.9 years in 2005 and 8.0 years in 2006. In 2007, the mean tenure was just below the 10-year average of 7.9 years. (See Exhibit 7.)