CEOs in North America have the longest average tenure by far — 8.3 years in 2007, with a 10-year average of 9.4 years. This is likely due in part to a governance environment that favors the unified CEO–chairman model (and self-preservation), but the average is also affected by the unusually large numbers of North American CEOs who serve for 10 or more years. In the 2007 class of departing CEOs in North America, 33 percent had served for more than 10 years, compared with 18 percent at European companies.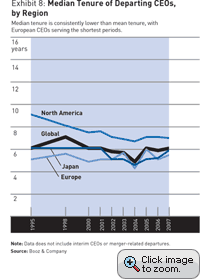 We questioned whether the prevalence of unusually long-serving CEOs might be affecting our analysis of tenure, so we recalculated the data using median instead of mean tenure, which minimizes the long tails in the data resulting from the long-serving CEOs. Using me­dian tenure, we found no evidence of global change in tenure over time: The six-year median tenure for CEOs leaving office in 2007 was the same as for those who left in 1995, and the same as the average for the entire 10 years of data. (See Exhibit 8.)
Whether the mean of 7.9 years or the median of 6.0 years is used, the data contradicts the conventional wisdom. Boards, however preoccupied they may be with short-term stock price movements, are more patient with their CEOs than is commonly believed, and are in fact giving them plenty of time to prove themselves. Most management studies show that CEOs need three to five years to develop their strategies and see them through to the results. Our data shows that, on average, CEOs are getting that much time, and more. This holds true even for those CEOs who are forced from office. Over the 10 years of our data, the median tenure of dismissed CEOs was 4.5 years, both globally and in Europe; for those dismissed in North America, it was 5.3 years.
One reason that boards are acting slowly to replace underperforming CEOs, we hypothesize, may be that many lack a pool of candidates who are ready and able to take over the top spot. This hypothesis is supported by another finding from the CEO turnover study: North American and European boards continue to hire outsiders as CEOs, even though they consistently underperform CEOs who rose through the ranks.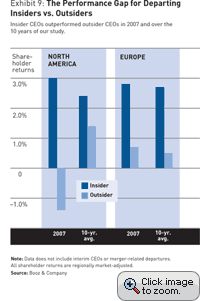 For the outgoing CEO class of 2007, 22 percent were outsiders, and over the 10 years of our study, the proportion of outsiders has fluctuated around 20 percent. The performance gap between insiders and outsiders was especially wide for outgoing North American CEOs in 2007. Total shareholder returns for insiders were 3.0 percent above the regionally adjusted market returns per year during their tenure, whereas outsiders' adjusted returns were 1.4 percent lower. In Europe, insiders' returns were 2.8 percent above regionally adjusted market returns, versus 0.7 percent for outsiders. Over the entire 10 years of our study, North American outsiders have underperformed insiders by 1.0 percent on average, whereas the gap for European outsiders was 2.2 percent. (See Exhibit 9.) We also found that outsiders tend to have shorter tenure than insiders: For outgoing CEOs in 2007, the median outsider tenure was 4.8 years, versus 6.4 years for insiders. For the whole 10 years, median outsider tenure was 5.0 years, versus 6.0 years for insiders.
Toward Better Succession Planning
The data we have presented suggests that although boards of directors have gotten better at managing CEO succession over the past decade, there is significant scope for further improvement. The lack of correlation between CEO performance and dismissal rates, the culture of self-preservation that persists in North American companies, the continued reliance on outsider CEOs — they all suggest that companies need to do a better job both of selecting new CEOs and, especially, of developing more future leaders from within.