Although the choice between growth and frugality is passionately debated in many companies, it represents a false dichotomy. Growth and cost efficiency should reinforce each other. Logically, cost efficiencies should make it easier to devote more resources to growth, and the launch of new products and services should lead to innovations in efficiency. Why don't things work that way in practice? Often because of organizational designs that, consciously or not, were put in place during the years of cost cutting. A CPG company, in particular, cannot move forward unless its leaders can diagnose and fix the barriers to growth that have gradually become a fixture of their enterprise.
The Limits of Good Intentions
When leaders in the sector begin a growth initiative, they often start by declaring a commitment to the new strategy, enlisting employee hearts and minds, and assuming that some kind of cultural and behavioral transformation is needed. But they overlook the organizational design, which actually drives behaviors and indirectly determines whether the rest of the growth strategy can be executed correctly.
For example, in many large organizations, the way the incentives are set up frequently clashes with the growth strategy. The corporate leaders promote bold and big innovations. But they leave in place the target demanding that all new products show a profit within two years or face being shut down. This creates almost irresistible incentives for business unit leaders to provide "work-arounds" that make them appear to generate the requisite profits, at least in the short run. They might bury costs in the most successful product lines or manipulate shipping times so that the numbers will look more favorable.
At Amberville, the core demanded a major new commitment to customer service from the business units, and they all complied — but in a halfhearted way that faded from view within six months. It would be easy to say that the local business unit leaders were resistant to change, but the truth was much more compli­cated. These leaders saw the value of customer service, but they had neither control nor influence over the customer service process, they lacked easy and regular communication with the leaders of that function, and their incentives favored other priorities. It was much easier to focus on other ways to deliver the results against which they would be measured. All the goodwill and strategic understanding in the world could not overcome those organizational disabilities.
The leaders at Amberville did, however, ultimately change their behavior, and not just superficially. They revamped the organization in ways that dramatically increased revenues without increasing investment. We have seen the same sorts of results firsthand in several other consumer products manufacturers in recent years. One independent condiment company, after redesigning itself, doubled its value in less than five years. All of these manufacturers have initiated significant changes in their day-to-day practice through a shift in their organizational design — specifically, by setting in place five critical enablers of accountable, innovative, auton­omous, and linked behavior. (See Exhibit 1.)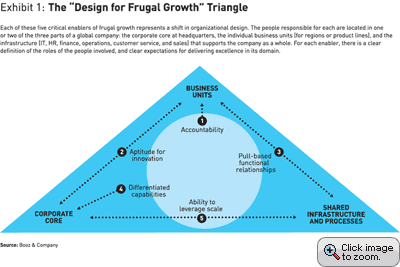 The list of enablers in the growth triangle will not be a surprise to many managerial veterans. These factors are known for their impact on growth in a variety of industries. Who could argue with having truly accountable business units, a genuine capacity for customer-focused innovation, functions that successfully serve the needs of the frontline business units, capabilities that meet the needs of a differentiated customer base, or the ability to take practices and products to scale around the world? But companies often struggle to achieve these enablers, and sometimes give up trying. With a sub­stantial shift in organizational design, the behaviors and practices of frugal growth naturally follow.