The Wm. Wrigley Jr. Company stuck to its gums for more than a century. The company, founded in 1891, specialized in chewing gum; it did not branch out into mints, candies, or breath strips until 1999. Over the years, Wrigley built up its core capabilities in a way that few other companies could match: It focused innovation on new flavors and developed a consistent ability to in­fluence retailers to display its products prominently on the candy racks. Thus, by the early 1980s, Wrigley had achieved operating margins twice those of competitors more than 15 times its size. This was quite an accomplishment, especially in an industry (consumer packaged goods) that has historically relied on scale, in both manufacturing and marketing, for its profitability.
Wrigley, in effect, was one of the few consumer packaged goods enterprises that prospered on its own terms, instead of adapting its plans to mimic its competitors. This paid off handsomely for the com­pany's shareholders in April 2008, when chocolate giant Mars Inc. swept in with a rich US$23 billion all-cash offer. So irresistible was the lure of this deal that investing sage Warren Buffett committed $4.4 billion of the purchase price and a further $2.1 billion to purchase a stake in the Wrigley division.
THE STRATEGY+BUSINESS COLLECTION: THE EXECUTIVE GUIDE TO STRATEGY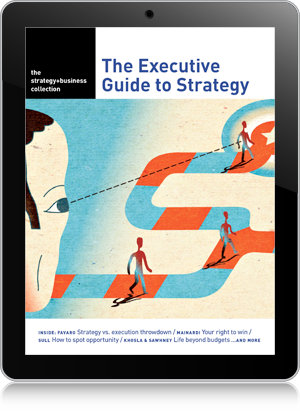 This article is featured in the strategy+business compendium "The Executive Guide to Strategy," designed exclusively for smartphones and tablets. The collection features our best thinking on creating and implementing the right strategy for your organization—with insights from top leaders including Capable Strategist author Ken Favaro, HBS Professor Cynthia Montgomery, strategy expert Ram Charan, and Kellogg School's Mohanbir Sawhney.
To download, select your device:
The key to Wrigley's enviable position was not its single line of products — there are many single-category companies that are less successful — but rather its distinctive ca­pabilities. One bit of evidence for this was Mars's decision to leave Wrigley as a stand-alone business after the deal, indicating that the acquisition was motivated primarily by the leverage that capabilities can offer. Mars knows chocolate and candy. Wrigley knows gums and candy. Together, the combined company knows how to launch and market confectionary products. Mars then transferred its non­chocolate brands, Starburst and Skittles, to Wrigley's portfolio to consolidate and leverage these differentiating capabilities. Mars CEO Paul Michaels summed it up best when he said the deal was "not about being bigger — it's about being the best."
When most corporate leaders hear about using capabilities as a strategic advantage, they tend to think internally. They assume that building capabilities is a job for their human resources, training, or R&D departments. Or they squander their efforts on a variety of unrelated skill- and technology-building initiatives that don't fit well together and don't address the real needs of customers or reflect the company's overall direction. By contrast, the Wrigley story — and similar examples in financial services, automobiles, transportation, health care, and many other industries — suggests that an effective capabilities-driven strategy is outward-looking. It starts and ends with customers. It involves building up a portfolio of ideas, skills, and competencies that, when put together, enable the company to consistently attract its primary customers.
A portfolio of capabilities might include intellectual capital — ideas, patents, products, and distinctive practices — but those elements are not enough. Patents expire. Premium products become commoditized. However, a distinctive combination of skills, tools, or processes, deployed in day-to-day business, will tend to get better over time, at a pace that prevents competitors from catching up. Wal-Mart's supply management prowess, Southwest Airlines' asset utilization expertise, Toyota's mastery of the automotive production system, and Procter & Gamble's ability to leverage innovation across product categories have all benefited from continuous improvement. Honed and strengthened over years (or sometimes decades), these focused bundles of capabilities confer and support a "right to win" in their companies' respective industries.