As a result of this focus, combined with the public's increasing demand for fuel efficiency, Honda has emerged as the only car com­pany to register sales gains in the U.S. in 2008. Through the first seven months of the year, Honda's revenues were up 3 percent in a market that had fallen 11 percent. In addition, whereas its American counterparts have hemorrhaged billions of dollars, Honda's bottom line has never been stronger; it reported record profits of nearly $1.7 billion during the first quarter of FY08.
Portfolio Coherence
Will a capabilities-driven strategy yield similar results for any com­pany? That depends on many factors — and the largest is probably the coherence of the company's capabilities portfolio. Many corporations maintain a portfolio of complementary businesses. But few understand how to build a portfolio of mutually reinforcing capabilities that cross business unit lines, and that distinguish the company as a whole.
Kimberly-Clark Corporation's customer im­mersion and design center represents one leading-edge example. Re­tailers visiting the center can walk into a virtual version of their store and interact with products on the shelf just as consumers would. Using 3-D virtual-reality technologies, Kimberly-Clark can mock up a typical Target store, for instance, complete with the red bull's-eye logo and signage, and experiment with different merchandising, as­sortment, pricing, shelving, and execution options. The center allows all consumer-oriented Kimberly-Clark business units and product lines, including diapers, paper towels, and feminine care products, to benefit from its capabilities in retail-based consumer insight. Staffers can learn directly from retail customers and thus improve many subtle but high-leverage aspects of product innovation and marketing: design and packaging, in-store locations and displays, product differentiation, and more. Other parts of the company also benefit; for example, as Information Week reported in September 2007, Kimberly-Clark's in­ternal R&D staff bring in their specs and watch the products they are building come to life.
Other companies that build coherent portfolios of capabilities enjoy similar advantages. Procter & Gamble's "open innovation" program, Connect + Develop, allows the company to exploit the product, packaging, and cost innovation ca­pabilities of external firms along with its own — and the program coherently fits with its human capital and expansion strategies. (See "P&G's Innovation Culture," by A.G. Lafley, with Ram Charan, s+b, Autumn 2008.) Unilever's distribution network incorporates its strong global supply chain capabilities in the developing world, where, ac­cording to the Economist in January 2008, the company generates 44 percent of its annual revenues.
Building a portfolio of an enduring, unified set of capabilities means making a variety of decisions — including those regarding ac­quisitions, divestitures, human capital investments, recruiting, IT and other technologies, and alliances — in terms of how well they fit with the company's other efforts to ex­pand its skill and prowess. If those decisions are managed well, then a portfolio coherence strategy need not result in a substantial increase in a company's overall investment. In fact, it can be a major source of cost savings, because it eliminates investments that do not help position the company for long-term advantage.
Perhaps that's why research suggests that companies that have de­fined and leveraged their capability coherence typically enjoy higher operating margins. That correlation, at least, held true in a recent Booz & Company study of consumer packaged goods companies. (See Exhibit 1.) The clear relationship between portfolio coherence and operating margin performance — regardless of revenues — suggests that capability coherence will increasingly drive corporate strategy over the next five to 10 years.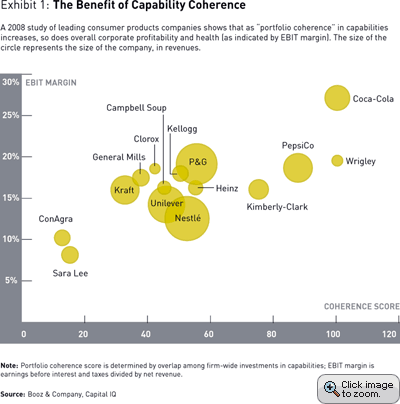 Identify, Build, Divest
How, then, do you institute a capabilities-driven portfolio? You articulate those capabilities that could help you succeed in your key markets, and then deliberately allocate the bulk of your support to them. Your thinking might unfold through a step-by-step process.