The growth in in-store advertising does not rep­resent a zero-sum game; it often signifies an expan­sion in the overall pie. The vast majority of dollars for in-store video advertising to date has come from below-the-line budgets, rather than from cannibalization of above-the-line paid media spend­ing. True, some of this spend­ing has come at the ex­pense of traditional television budgets or out-of-home budgets for non-digital ads, such as static billboards, but a significant share is incremental.
Some media companies are already benefiting from the rise of in-store advertising by supplying content. In many cases, in-store media can become an important component of the editorial portfolio. National cable and magazine players in categories such as gardening, food, home improvement, sports, and health can extend their brands and deepen their position across multiple media platforms, while creating richer opportunities to develop integrated campaigns with leading advertisers. For example, a cable network that owns a show focused on a celebrity chef might film additional segments targeted specifically for retail outlets, with recipes tied to particular ingredients. Similarly, magazine companies will be able to reinforce their relationships with readers in key interest groups, developing video content that can be leveraged in the store, as well as other digital platforms such as online and mobile. Local television stations, newspapers, and radio stations can use in-store media to increase their presence in their markets. They can offer advertisers ways to reach consumers across a variety of digital touch points at once: in the home, in the store, and on the go.
Today, a number of in-store video advertis­ing networks are available to marketers. (See Exhibit 2.) They range from large-scale multichannel opera­tions such as Premier Retail Networks (PRN) to smaller video networks focused on particular retail sectors (point-of-sale TV at Blockbuster and Hollywood Video) or technologies (MediaCart with interactive shopping cart displays).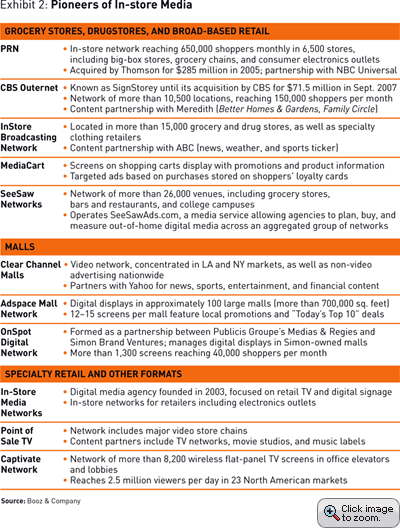 Smart, Engaged, Accountable Networks
For the promise of in-store advertising to be realized, several challenges need to be addressed.
• Targeting. Today, the same ad is typically broadcast to every aisle across a chain. But some retailers are experimenting with in-store video advertising that achieves a level of personalization and focus unmatched by broadcast and cable TV, because messages can be customized by store aisle, time of day, and neighborhood to better target specific shopping occasions.
These new possibilities are made feasible by in-store ad networks' switch from broadcast, satellite-based technologies to Internet protocol television (IPTV), in which the signal is downloaded through high-speed Internet connections. With IPTV, thousands of different videos are instantly available at any kiosk or screen within a store. Similar to video-on-demand servers, which deliver movies or TV shows to homes at residents' request, IPTV systems tailor video ads to locations within a store, for example, running one ad in the dairy aisle and another ad in the beauty section. PRN is expanding its use of IPTV after tests in 2007 demonstrated that product sales in stores using this technology were at least 10 percent higher than sales in those that used a less targeted approach. Other in-store video advertising networks are also likely to make the necessary investments to migrate to a more targeted approach.
Wal-Mart Stores Inc. will be among the first to mine the potential of IPTV. The retailer announced in September 2008 that it is rolling out the "Wal-Mart Smart Network" in 2,700 of its stores, in partnership with PRN. The network will help advertisers gauge how effectively certain ads work in particular locations in the store, in different geographic locations, and at various times of day. "Let's say Coke is an advertiser," says Richard Fisher, president of PRN. "Because our data feed takes into account the temperature in different regions, the Coke ad could run as soon as the temperature goes above 75 degrees Fahrenheit in a particular store's town. And think about how this technology could allow the ads to grow more sophisticated over time: Coke could produce the same ad in 10 different colors and test which is more appealing by measuring how those ads are performing against sales in different regions at different times of day."