A Media Business Model That Makes the Most of Print
Selectionnist.com has created a Web-based bridge between print magazines and online shopping.
"The making of newspapers has been revolutionized so violently as to tempt comparison," wrote Chester C. Lord in the New York Times on Oct. 11, 1931. He meant, of course, that the business model was changing: from circulation-supported to advertising-supported. Improvements in printing technology had caused a huge boom in newspaper audience size, which led to changes in the industry's operating model.
The equivalent media revolution of our time, instead of a boom, is more like a bust. A recent New York Times earnings report (from Feb. 2016) showed that print ad sales had fallen 6.6 percent during 2015 and revenue was virtually flat. To be sure, digital advertising had increased 11 percent over the previous year, and the paper had added 53,000 digital subscribers. But the Times — along with every other print-heritage newspaper and magazine — is suffering because no revenue stream from digital is yet anywhere near as lucrative as advertising used to be in print.
But what if that's changing? After 20 years of publications struggling on the Web, what if a business model was emerging that attracted revenue to publications like the Times — not just to their online version, but also to their print editions? Paris-based entrepreneurs Tatiana Jama and Lara Rouyres, both in their early 30s, may have invented exactly that. With a consumer-oriented site called Selectionnist, they have created a Web-based bridge between print publications and online shopping. It aims to turn anything in any article or ad — in print or online — into an offering in a reader's customized shopping catalog.
This innovation came about in 2013 through Jama's personal frustration. Tired of tearing pages from fashion magazines and then calling around or running around Paris trying to find an item she wanted to buy, she employed a sophisticated image-recognition software program to do the legwork. The result is the basis of Selectionnist. When you see an intriguing product or service in an article in a print newspaper or magazine that has an arrangement with the site, you need only to take a picture of it with a smartphone and upload it. Voila! You can get more info about the item, see what others have written about it, watch a tutorial on how to use or wear it, find out which shops carry it, or buy it directly from the brand through the Selectionnist site.
Of course, in order to access all that, you have to create an account with the site, which generates a customer profile that, in turn, provides valuable data to Selectionnist's partners. The site thus connects readers with products, publishers with revenues from product placement, and retailers with shoppers. This media innovation potentially transforms every published image, in print or online, into digital content with a link to a source.
This media innovation potentially transforms every published image, in print or online, into digital content with a link to a source.
At least two other sites — Domino (magazine and website) and Thetake.com (which mines images of products and apparel from films and TV) — have similar ideas. But Selectionnist appears to be the first to link a broad range of print media in this way. It has already generated enough response to show that it could be a consistent and powerful source of revenue for the new media world. In 2015, it raised €2 million from venture capital firms. It signed up more than two dozen global magazines (including Elle). "Magazines are still the largest repository of advertising and editorial features for merchandise, online and in print," Jama points out. Selectionnist focuses on five market segments: fashion, beauty, décor (home furnishings), culture (event tickets), and children. But it — or other platforms like it — could easily extend to automobiles, financial services, travel, technology, or even business-to-business offerings.
In 2015, Selectionnist raised €2 million from venture capital firms, and it signed up more than two dozen global magazines.
"Many customers even today can't handle technology," Jama told me in an interview in Paris recently, as she won the top award from NextGen, the innovation and startup committee of the American Chamber of Commerce in France. "Selectionnist is simple. You just have to know how to take a picture. Taking a picture of a product today is as powerful as going into a shop." Jama and Rouyres are no strangers to online business. Jama is a graduate of the Sorbonne law school with an MBA from France's prestigious HEC, who spent a year at NYU's Sloan School of Management. She and Rouyres created (and sold in 2011) a site that collated various events and products at good prices around Paris.
Selectionnist, with a staff of 14, is targeting €1 million in revenues in 2016, but the potential of its business model is still barely explored. Customers can access items through Selectionnist only if the brand that owns the product has uploaded it to the site; this provides a strong incentive for brands to partner with Selectionnist.  More than 5,000 brands have signed up; some, including L'Oreal and LVMH, have exclusive contracts with Selectionnist and pay more for prominent placement; their agreements also allow them to respond to readers and sell to them directly. All advertisers gain access to customer profiles and purchasing data the site gathers about its customers.
"The data we provide opens a wide field for future customer contact," Jama says. "For example, if you have clicked on a new mascara and read about it and maybe watched a video demonstration on our site, but didn't actually purchase it, the brand can follow up with you and say, 'We noticed you didn't buy our mascara, so here's a coupon for something else you might like.'"
Magazines also gain data about customer transactions and interaction — data they can use directly to set advertising rates. Indeed, by blurring the lines between editorial and advertising — readers can capture images from either type of content — Selectionnist generates new types of revenues for print. For the first time, the response of print readers to ads can be tracked far more precisely, if readers are compelled to take action, than through the uncertain analytics of subscriptions and reader surveys.
The results may ultimately show a surprising amount of reader loyalty to print media, even in a digital age. "Print is the only media where publicity is not aggressive," Jama points out. "It is where brands traditionally put most of their money, yet it has been hard to know the real return on that investment. Now we can show them where the interest came from, tell them about the customer, how long he or she spent on the site, and how much they spent."
Ultimately, the power of Selectionnist's model will be tested when it extends more broadly into the media landscape. Eventually, a consumer could highlight any photo from any article in any publication — for example, a shot of a lamp in the office of a politician being profiled. Even if the lamp weren't identified, the reader could ask, "Who makes this? Where can I get it?" If this leads to an online sale, the newspaper or magazine earns a commission. If thousands of people begin to shop this way, publications might gain a massive new revenue stream. In the process, for better or worse, they would become not just sources of information but components of a larger consumer experience.
Recommended stories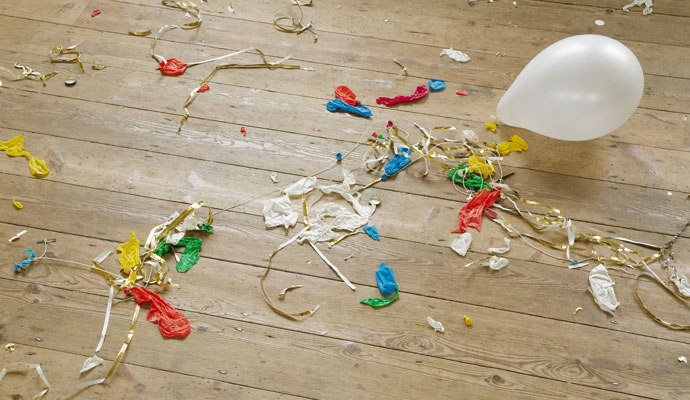 Death and dismissal stalk everyone with a job, as Joshua Ferris reminds us in a ferociously funny novel set during the dot-com bust.