Setting the Bar
The idea that biographies and memoirs should be true is relatively recent. In a fascinating March 2008 New Yorker article titled "Just the Facts, Ma'am: Fake Memoirs, Factual Fictions, and the History of History," Harvard Professor Jill Lapore shows that the separation of fact and fiction, and the idea that facts should be objective and documented, is only about 150 years old. This confirms "muckraking" journalist Ida Tarbell as a pivotal figure in the genre.
Tarbell (1857–1944) helped establish our modern notion of a biography with her meticulously researched and documented books about Napoleon and Abraham Lincoln, and especially with her 815-page biography of John D. Rockefeller and the Standard Oil Com­pany. That book not only led to the enactment of the antitrust laws and the breakup of Standard Oil, it transformed our notion of leadership in the private sector. Explicitly premised on Ralph Waldo Emerson's assertion that "an institution is the lengthened shadow of one man," The History of the Standard Oil Company (1904) laid the foundation for current notions of corporate and political leadership and the impact that leaders have on their organizations and the larger economy and culture. Her book on Rockefeller was personal without being gossipy, critical without being shrill.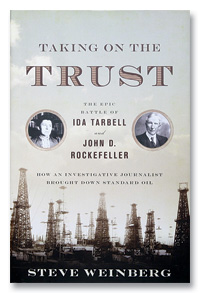 Investigative journalist Steve Weinberg, in Taking on the Trust: The Epic Battle of Ida Tarbell and John D. Rockefeller, explains how Tarbell raised the standard for research, documentation, and objectivity and took character-driven narrative and political/cultural critique to a new level. Her innovative approach, insisting on attribution and primary sources for her information, helped define the new concept of investigative journalism — in essence, creating Weinberg's profession. Perhaps most important, she established an expectation of in-depth scrutiny of public figures and institutions, even corporations, that led to the development of an entire profession directed at guiding and molding public opinion: public relations. Her work also led, of course, to dozens of CEO autobiographies from would-be Lee Iacoccas.
Tarbell chose Rockefeller as a subject because he was "the Napoleon among businessmen" and because her observation of the impact of his monolithic oil com­pany on competitors and communities inspired her to write about "the processes by which a particular industry passes from the control of the many to that of the few." There was also a more personal reason: Rockefeller's market-dominating practices ruined the prospects of Tarbell's father's company. But Ida Tarbell's credibility came from her scrupulous research and her fair-minded assessments. She was critical of the methods used by Rockefeller and Standard Oil, but she also wrote about the strengths of the company and its founder, praising the energy, intelligence, and dauntlessness of both, and she recognized business as America's singular strength.
Weinberg shrewdly notes that both Tarbell and Rockefeller "established new paradigms for their callings in life. Their reliance on facts was born of the rationalism and scientific outlook that had arisen during the industrial revolution."
For both, an almost messianic seriousness of purpose and rectitude bolstered their focus and vision. But Rockefeller's goal was money and power, and Tarbell's was justice. His goal was structure and stability; hers was adventure and social change.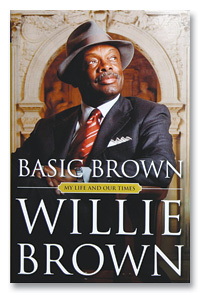 An even more significant distinction between the two was their approach to criticism. Rockefeller was offended by it. Despite her firm convictions and sense of purpose, Tarbell welcomed criticism, even insisted on it. That is not only the best guarantee of the validity of her assessments, but the most important lesson from her example. It is an audacious undertaking to do justice to Tarbell, a superb biographer, but Weinberg's book would surely earn the approval of even the steely and judgmental author herself.
Brown versus Bush
Reading Basic Brown: My Life and Our Times, by Willie Brown, the famously flamboyant and always impeccably attired four-term mayor of San Francisco and speaker of the California assembly, is like sitting down for a master class in politics with a large and small p. It is also invaluable for anyone trying to steer any large organization of disparate people who hold even more disparate interests. This is the best playbook for business leaders of all biographies or memoirs published this year and certainly the most entertaining.