Best Business Books 2009
(originally published by Booz & Company)
No matter what the future holds, the Great Recession of 2008–09 has had a seismic impact on the global business landscape and has called into question its philosophical and systemic foundations.
Certainly, it has been keenly felt among publishers and booksellers. In May 2009, year-to-date sales of professional books in the U.S. were down 6.8 percent from the year before, according to the Association of American Publishers. The recession also colors the writing — and the reading — of this year's s+b best business books essays in ways both obvious and subtle.
The most direct manifestation is evident in the appraisal by Financial Times commentator Clive Crook of the books that seek to make sense of the recession, its implications, and its ramifications. In barely more than a year, the business section has become crowded with such books, but with the story still unfolding, none of them yet are comprehensive. Crook's picks provide the multiple levels of perspective needed to appreciate the recession's many facets.
Ayesha Khanna, managing director of Hybrid Realities, and Parag Khanna, New America Foundation senior research fellow, team up to review books on the changing topology of global business. They find changes in regional trading patterns and increasingly dynamic emerging economies that will challenge any established player — all evidence of an ongoing shift in competitive power that is sure to accelerate if the U.S. economy remains stagnant.
As one might expect, our management and leadership essays are rife with recession links. In the former, Judith F. Samuelson, the founder and executive director of the Aspen Institute's Business and Society Program, searches out books that reveal the recession's silver lining: its challenges to outmoded ways of thinking about management and governance. In the leadership essay, Charles Handy, whose memoir was one of 2008's Top Shelf selections, mines books on topics as diverse as America's Puritan settlers and the Buddhist Tzu Chi movement for insights into how to begin mending the torn fabric of leadership.
The University of Denver's Daniels College of Business professor James O'Toole grounds his review of this year's best biographies in a hefty tome about a 19th-century prime mover, John Stuart Mill, whose advocacy of free markets and private ownership resonates amid the dramatic government response to this economic crisis. IMD professor Phil Rosenzweig returns for an encore performance in the strategy category, pointing us toward books on intellectual property and dynamic capabilities in an effort to identify enduring strategic advantage. Rosenzweig also recommends a new book on Enron that takes us back to the last recession and explores the perils of stretching any strategy too far.
Marketing maven Catharine P. Taylor is back as well, with a proposition that should raise executive eyebrows: Branding is becoming an open source endeavor. She calls out Twitter — the subject of almost as many new books as the recession — as one of the leading technological mechanisms enabling this phenomenon. Steven Levy, senior writer at Wired and newcomer to our pages, broadens the thesis by reviewing books that explore the disruptive power of technology and what happens when companies such as MySpace don't heed that power.
This year's best business books help us understand current conditions and chart a secure course forward. With luck, next year's best books will offer similar insight into a recovery of historic proportions.

Contents:
The Meltdown
A Wealth of Explanations
by Clive Crook

Leadership
Means to a Greater End
by Charles Handy

Strategy
The Capable and the Failed
by Phil Rosenzweig

Globalization
Western Dominance in Decline
by Ayesha Khanna and Parag Khanna

Reprint No. 09407

Management
In Search of the Silver Lining
by Judith F. Samuelson

Marketing
Branding Goes Viral
by Catharine P. Taylor

Technology
Disruption 2.0
by Steven Levy

Biography
Unconventional Lives
by James O'Toole
Recommended stories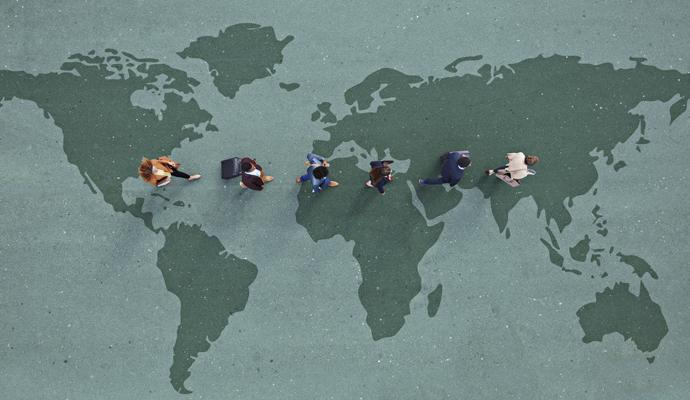 Episode 11 of the Take on Tomorrow podcast features Parag Khanna, author and entrepreneur, and Dion Shango, PwC's territory senior partner for Africa Central and Southern Africa, discussing the implications of an increasingly mobile world.