Inevitably, a period of breakneck growth is followed by a period of consolidation. In the face of excess capacity, rising labor costs, and falling output prices, profitability in China is under pressure. "We expect market-driven M&A deals to take off like a rocket," Hexter and Woetzel write. Not that this will be easy: Stock market valuations are unreliable, discounted cash-flow models dubious given the great regulatory and competitive uncertainties that underlie them, and due diligence extremely difficult to perform. Assets often have to be reshuffled to satisfy government agencies that hold stakes in acquisition targets. "You're driving in more fog than would envelop you in deals in the developed market," they caution. Yet there is no choice but to merge and acquire and grow, because China is moving to a modern industrial structure very quickly.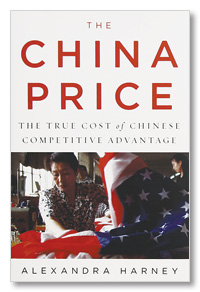 Outsourcing's Underside
Hexter and Woetzel don't appear to have visited the same companies as Alexandra Harney. Their China is filled with reputable firms trying to meet world-class standards. Hers is populated by factories whose main business is subterfuge, skirting both laws and contrac­tual obligations in hopes of making a profit from supplying inexpensive goods to the world's largest manufacturers and retailers.

The China Price is a work of reporting, and the reporting is extremely good. Harney takes us into clean, ultramodern, by-the-books factories that companies operate for the benefit of buyers and inspectors from foreign customer businesses — and the less salubrious unmarked buildings nearby where the customers' products are actually manufactured once the inspectors depart. We meet auditors who at­tempt to monitor compliance with the labor standards of European and American retailers, and workers who shun those well-managed factories because their compliance with rules and regulations means they offer less overtime work. Memorable participants in the quest to get rich gloriously, from the owner of an un­licensed coal mine to workers who have lost limbs in unsafe factories, appear across her pages.
Harney carefully destroys many foreign fantasies about doing business in China. Foreign companies sourcing from Chinese contractors may not even know where their goods are being made, much less whether the working conditions are actually those described in their glossy social responsibility reports. The demand that Chinese suppliers comply with labor laws and safety regulations clashes with both workers' desire to make as much money as they can and customers' incessant demand for even lower prices. The auditors employed by the owners of some of the world's best-known brands are constantly criticizing factories for violating ethical norms, but the auditors don't seem to talk with their colleagues in the procurement department, whose job is to minimize costs. "Customers believe they are reasonable, but to us the price is not reasonable," a factory owner tells Harney. "So we have to think of other ways to make our profits reasonable."
Harney sees herself as a muckraker. "The aim behind this book is to uncover the true cost of China's competitive advantage," she writes. Yet the lesson of The China Price is not at all the one she touts.
Even as she vividly reveals the human damage done by China's double-time march to capitalism, Harney also describes a rapidly changing society in which the abuses of early industrialization are no longer tolerated. Young workers increasingly shun dirty factories with mandatory overtime; they want healthy workplaces and free time in which to enjoy their earnings. Local governments that once pulled out all the stops to attract factories no longer want polluters or labor-intensive industry; now, they want providers of good jobs with good wages, and will use their power to drive undesirable enterprises away. A more modern legal system and an increasingly vibrant civil society have not put an end to abuse and deception, but they are beginning to turn a society based on corruption and connections into one that is subject to the rule of law.