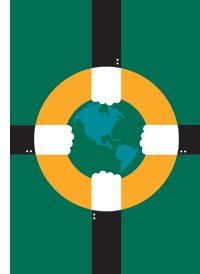 John Elkington and Pamela Hartigan
The Power of Unreasonable People: How Social Entrepreneurs Create Markets That Change the World
(Harvard Business Press, 2008)
Stephen A. Marglin
The Dismal Science: How Thinking Like an Economist Undermines Community
(Harvard University Press, 2008)
Muhammad Yunus
Creating a World without Poverty: Social Business and the Future of Capitalism
(PublicAffairs, 2007)
Peter Block
Community: The Structure of Belonging
(Berrett–Koehler, 2008)
---
In June 2008, Bill Gates stepped down from day-to-day leadership of Microsoft. He wrote in Time magazine of wanting "to help create a world where no one has to live on a dollar a day or die from a disease we know how to prevent." Gates's new cause is "creative capitalism"; he intends to use innovation, entrepreneurship, and market creation to respond to the needs of the more than 4 billion people who, he says, "have been left out."
But ameliorating poverty and eradicating disease will take more than new products, new business plans, and new markets. First, it will require a widespread recognition of the degree to which these escalating problems are unintended consequences of the global acceptance of free-market economics.
"In a world where the ideology of free enterprise has no real challenger," writes economist and Nobel Peace Prize winner Muhammad Yunus, "why have free markets failed so many people? Unfettered markets in their current form are not meant to solve social problems and instead may actually exacerbate poverty, disease, pollution, corruption, crime, and inequality."
Both Yunus and Gates have deep knowledge of free-market economics. But their approaches to using capitalism to serve the poor — the Grameen Bank and the Bill & Melinda Gates Foundation, respectively — are very different, and it is this difference that illuminates a second requirement for addressing intractable global problems: challenging the basic assumptions about human nature and human capacity that have made their way from free-market economics into much contemporary business practice.
The Western economic world view frequently assumes that creativity, talent, and generosity are not common human traits; that people, especially poor people, are not smart enough to act in their own behalf; and that community is not essential for quality of life. Yet anyone working in community — that is, working with a group of people with shared interests in a specific geography — quickly discovers that nearly all people are creative. They give generously of their time and selves to help others. They want to live together in community and create better lives for their children. This is true everywhere in the world, and if we are to solve dire global problems, it is critical for this view of people to gain ascendancy, in business models and even in economic theory.
This year, the best books on capitalism and community illuminate the assumptions about human potential embedded in the current free-market model and the possibilities for building a market economy based on more holistic assumptions. Drawing from a diverse set of experiences, cultures, classes, and perspectives, these four books seek a capitalism that uses the creative dynamics of entrepreneurship to address the most difficult issues faced by two-thirds of the world's people. Where they differ significantly is in their expectations of who possesses the entrepreneurial spirit.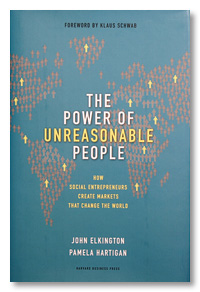 Rich Markets among the Poor
In The Power of Unreasonable People: How Social Entrepreneurs Create Markets That Change the World, John Elkington and Pamela Hartigan show how capitalism is being successfully applied to Third World problems. Following in the footsteps of C.K. Prahalad, the authors point to the US$5 trillion available in purchasing power at the "bottom of the pyramid" and conclude that it is possible to do well and do good simultaneously. Their book is filled with the stories of "unreasonable people" who have applied their drive and imagination to these nontraditional markets, a trend that they argue is "a new phase in the evolution of business, markets, and capitalism itself."