On another front, the Gillette story is instructive for its demonstration of how malleable consumer desires are in the hands of skilled marketers. In 2002, Gillette's archrival, Schick Wilkinson-Sword, came out with a four-blade razor to counter Gillette's three-blade Mach 3 Turbo. Gillette, with its next real razor development more than a year away, responded with a flashy advertising campaign featuring the Mach 3 Turbo Champion, identical to Turbo except for the color of the handle. The Schick Quattro was stopped dead in its tracks. Similarly, a repositioning of Procter & Gamble's Duracell battery line was all that was needed to revitalize the brand and restore real growth.
It would have been satisfying if Kilts had squarely addressed the controversy that arose over the outsized rewards he received at the end of his four-year campaign at Gillette and its sale to P&G. After all, he and his team did not create value in Gillette so much as they released it. And although Kilts argues that Gillette's factories in the Boston area were preserved, there is no doubt that the loss of headquarters functions, and the local purchasing they generated, represented a significant loss to the community.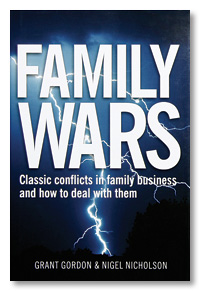 Hamlet at Work
In this year's best management book, Family Wars: Classic Conflicts in Family Business and How to Deal with Them, Grant Gordon, director general of the Institute for Family Business in the United Kingdom, and Nigel Nicholson, professor of organizational behavior at the London Business School, amply illustrate the latter part of Tolstoy's maxim: "All happy families resemble one another; every unhappy family is unhappy in its own fashion." The twist here is that the families whose unhappy stories are told are the founders and owners of some of the most successful businesses in the world.
Family businesses are the backbone of most econ­omies, and many public companies began as family businesses. There is much to be learned from them, for the family is a cauldron in which emotions, responses, and behaviors are heightened. Their spontaneity, openness, and passion have the potential to create benefits for a business, but when problems arise that involve issues such as identity and self-esteem and fairness and sibling rivalry, great harm can result.
Believing that the lessons learned from failure are more powerful than those learned from success, the authors examine 24 family businesses in Europe, North America, and the Far East, organizing their stories into five sections that reflect a continuum of family strife that ranges from warring siblings to total "uncivil" war among family factions. In the process, they explore the issues with which these businesses grapple, including the nature of familial warfare, how such conflicts arise, how relatedness affects conflict, and how the key dynamics within families unfold.
The conceptual framework in Family Wars is a loose amalgam of evolutionary, family, and individual psychology. Parenting styles seem to be particularly important, with entrepreneurial drive often being accompanied by an authoritarian style that continually employs top-down power and offers little emotional support for the children. The effect of this varies. For instance, if the family is small and has male children whose ages are close together, it can lead to intense rivalry, as seen in U.S.-based Koch Industries Inc. and India's Ambani family empire, Reliance Industries Ltd.
Gordon and Nicholson conclude the book with a summary of the five major risk factors for family businesses and some remedies for dealing with them. For countering nepotism, they suggest formal hiring policies and development programs for family members, regular appraisals and feedback, and the hiring of outsiders of the highest caliber. Intergenerational struggles can be mitigated by ownership continuity plans and the use of nonfamily professionals in governance and leadership roles. Disagreement over remuneration and rewards can be avoided by liquidity and exit policies that allow family members to access their capital and diversify their holdings. Sibling rivalry can be reduced by the clarification of roles, constant communication among the siblings, and even the appointment of an ombudsman. Finally, the major challenge of getting strong founders to let go can be addressed by setting enforceable retirement ages while providing the opportunity for founders to play senior statesmen roles.