Several years ago, a global distributor of wines and spirits embarked on an ambitious event-based marketing campaign. The company sponsored lavish dinners at gourmet restaurants for community "influencers" and held wine-sampling or liquor-sampling parties at local taverns. Though several very different brands were involved, these were all high-touch promotions, aimed at getting a focused group of consumers to try the drinks and also at building general brand awareness. The cost was substantial: One brand conducted nearly 200 promotional events in a single month.
But the company had no way to evaluate the effectiveness of this spending. The sheer number of events was daunting, and each brand ran its promotions in its own way, most with a seat-of-the-pants approach to measuring success. For one event, a salesperson could only quantify the results this way: "There were more than 600 people there. They were young and single and had money to burn."
It wasn't long before the company's leaders realized that they needed a more rigorous analysis of the return on their investment in this campaign. They finally imposed this rigor by creating a database of event cost information and requiring a simple breakeven analysis for any proposed event: calculating the number of bottles of liquor the attendees would have to purchase to cover the cost.
The results were eye-opening. It turned out that the breakeven cost of the events varied widely. In the most extreme cases, for the company to break even, each attendee would have had to purchase no fewer than 80 bottles of the premium Scotch being promoted — more than many people would consume in a lifetime.
By helping the company's marketers understand how much volume each event would have to deliver to make financial sense, a basic business case analysis allowed them to gauge their spending. As a result, about one-fifth of the budget was reallocated away from events whose profitability was doubtful, and a 10 percent improvement in marketing effectiveness was captured.
As marketers move to a more varied, shifting mix of advertising and promotion, they are coming face to face with the lack of insight they have historically had about which media choices work well, why customers buy, and what returns will be generated by their spending. This lack of insight did not matter very much when marketers had no choice but to depend on television, radio, and print — the traditional mass-market media. Television's gross ratings points (GRPs), which measure the percentage of a target audience reached by a particular advertisement, didn't explain why particular ads or placements led to increased sales and others didn't, but that combination of mass media and metrics was the only game in town. Now, however, there has been an explosion of media vehicles, and data is much more complete, granular, and evocative of consumer attitudes and willingness to purchase products. It is possible to accurately quantify the return on marketing spend (also known as marketing ROI). All that's lacking is the sophistication needed to gain insight from analytics, and the will to use that insight — not just in the marketing function, but in the company as a whole.
The Path to Mastery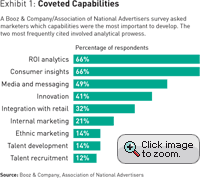 The need for marketers to develop analytical prowess — the ability to use data and analytical approaches to optimize the return on marketing spending — is already well established. An ongoing study by Booz & Company and the Association of National Advertisers (ANA) reveals that ROI analytics and consumer insights (many of which are derived from analytics) are the two capabilities that marketers identify as the most important to develop. (See Exhibit 1.)