With stock prices plummeting, profits evaporating, and millions of workers worldwide joining the ranks of the unemployed, one might assume that the chief executives of the world's largest companies lost their jobs in dramatic numbers in 2008. But that was not the case. CEOs demonstrated remarkable recession resistance last year. Although CEO turnover rose slightly on a global basis, from 13.8 percent in 2007 to 14.4 percent in 2008, Booz & Company's annual survey reveals that turnover actually declined in North America and Europe, the regions hit first and hardest by the economic downturn. Succession rates in these bruised economies decreased by 0.5 and 1.9 percentage points, respectively — all the more surprising when one considers that Europe and North America had led other regions in CEO turnover in the two previous years.
Moreover, the reasons for CEO departures in 2008 remained remarkably consistent with past years. Of the 361 succession events among the world's 2,500 largest public companies last year, 180 were planned (due to retirement, illness, or long-expected changes); 127 were forced (the board dismissed the CEO for poor financial performance, an ethical lapse, or irreconcilable differences), and 54 were prompted by mergers and acquisitions. (See Exhibit 1.) In 2007, by comparison, there had been 346 succession events: 169 planned, 106 forced, and 71 merger-related. To be sure, forced successions crept up in 2008 on a worldwide basis. But in North America and Europe, forced successions actually fell. (See Exhibit 2.) The worldwide drop in merger-related turnover is easy to explain: The credit crunch dried up financing for potential acquirers, and enterprise values fell to levels unacceptable to all but the most distressed sellers.


This year's data revealed many trends, but the main message is that in uncertain times, boards of directors tend to stick with the CEO they know. Companies in a recession want a battle-tested captain at the helm — and in cases where they opt for a new chief executive, many install or retain a seasoned veteran as chairman of the board to provide oversight.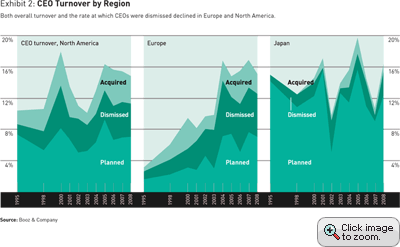 We are not suggesting that CEOs are somehow insulated from adversity or that their jobs are permanently secure. If anything, experience suggests that boards apply even greater scrutiny to chief executives' actions and decisions in tough economic times. In many companies, the economic crisis will turn out to have been a leadership test. CEOs may have been granted safe harbor for the time being, but our view is that some will not weather the current storm, and as boards take stock of their new financial and competitive positions, turnover will once again rise.
The turmoil of 2008 affected CEO turnover most clearly in certain hard-hit industries: In financial services and energy, for example, forced turnover climbed to record rates in 2008, whereas in more recession-resistant and stable industries, such as utilities, turnover declined from already low levels. Our data also showed that regional differences in CEO turnover seem to be waning. Forced turnover in Asia, for example — once rare — is increasing to levels closer to those in Europe and North America.
This year's study includes data for 1995, 1998, and 2000–2008. (See "Methodology," below.) And, for the first time, it includes an analysis of the incoming class of CEOs. We can now compare this incoming-class data with the profile, demographic, and other information we've long collected on departing CEOs to identify leadership patterns that might affect performance at the world's 2,500 largest public companies. We examined the career paths of the freshman CEOs who took office in 2008 — their previous positions, functional backgrounds, international experience, and high-profile assignments. We offer insights on seven action items that every new CEO should be thinking about, and we identify one institutional priority that is becoming ever more critical: the development of the next generation of CEOs. Among the specific findings for 2008: