The age of new CEOs is climbing. The average age of this year's incoming CEO class exceeds the average age of outgoing CEOs when they ascended to the top spot over the past decade by nearly two years: 52.9 vs. 51.0.
Outgoing CEOs are leaving at older ages. North American and European CEOs departed office in 2008 at 59.4 and 57.2 years of age, respectively, record highs for this decade. Japanese CEOs, as usual, were older, with a mean age of 63.0 years upon departure.
In 2008, almost 20 percent of CEOs — both incoming and outgoing — had previous CEO experience, nearly double the 9.8 percent average rate for the 11 years we have studied. Judging by their average tenure, prior CEOs among the outgoing class of 2008 took office during the last economic downturn in 2000–2002. This supports our hypothesis that boards look for experience in times of trouble. (See Exhibit 3.)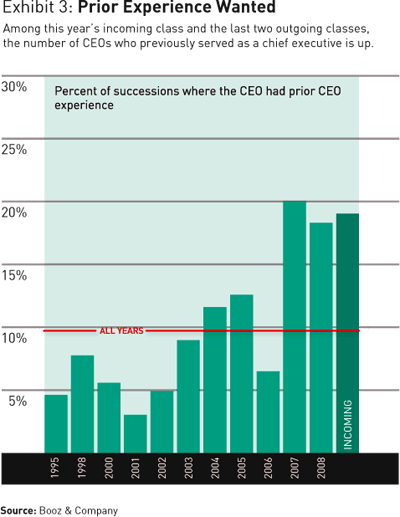 CEO tenure, at least in North America, is the longest it has been since 2000. Outgoing North American CEOs enjoyed a median tenure of 7.9 years in 2008, versus 7.2 years over the 11 years we've been analyzing data.
Among outgoing CEOs in North America, there has been a dramatic shift away from the joint chairman and CEO title. In 2001, 50.5 percent had served as both chairman and CEO upon taking office. Only 24.4 percent of North America's outgoing CEOs in 2008 held both titles when they took office, and the number is even lower for the incoming class: 18.0 percent. This latter figure brings North America more in line with other regions around the globe, where companies seldom combine the two positions.
More than half of the incoming CEOs in planned successions are assuming office as "apprentices," meaning their predecessor as CEO has stepped up to the chairman role. This finding highlights a trend that is growing across most regions. It is particularly noteworthy in North America, where, in the past, CEOs often assumed both the CEO role and chairman role upon ascension.
Among new CEOs, outsiders — those brought in from outside the company to take the helm — make up about 24 percent of the incoming class. (Insiders are those promoted from within.) This may represent an increase from the past; over the 11 years of the study, the percentage of outsiders leaving office has fluctuated around 20 percent.
Fifteen percent of new insider CEOs were auditioned, meaning they joined the company they now lead within the past three years. Instead of recruiting outsiders directly into the CEO slot, boards now appear to be "road-testing" them as chief operating officer or chief financial officer before giving them the wheel.
Many new CEOs have international experience, but most were born and raised in the countries where their companies are headquartered.
Anecdotally, we are noticing a swelling in the ranks of boomerang CEOs, those who left the position and then returned to the same company. Howard Schultz of the Starbucks Corporation is the most visible example among several in 2008.
Sector Volatility Is at an All-Time High
Unlike the data from previous years, the 2008 data on CEO succession revealed stark differences among industries. The most exposed sectors in the global economy experienced much more forced turnover in their chief executive ranks than the average rates for the years we have studied, whereas the rates for more recession-resistant industries were actually lower. (See Exhibit 4.)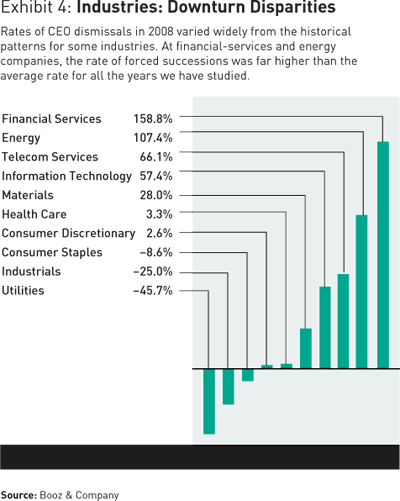 At the center of the economic maelstrom, the financial-services industry unsurprisingly experienced increased volatility in 2008. Of the 578 financial-services companies included in our study, 18 percent lost their CEOs. Of these successions, more than half were dismissals — a rate of forced succession 158.8 percent higher than the historical average. Generally, financial services is a lucrative industry that is kind to CEOs who deliver strong results and prompt in terminating those who do not. Our data supports this contention; CEOs in financial services who left as part of a planned succession delivered total shareholder returns 8.2 percent higher than their regional peers, while those who were forced out returned 5.8 percent less. Predictably, a disproportionate number of CEO successions in financial services were in North America.