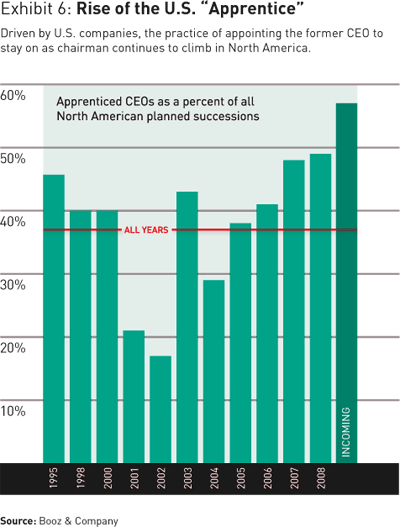 The New CEO Career Path
By expanding our research this year to identify and decipher patterns in data about the incoming class of CEOs, we sought to shed light on what companies can do to enhance the career options they offer to high-potential talent, and what individuals can do to improve their chances of making it to the top of their organization. As we studied the demographics and job histories of the new class of CEOs, we paid special attention to the items in their resumes over which would-be CEOs — and the companies they work for — could exercise some reasonable control. These included job assignments, international experience, and participation in high-profile strategic projects.
First, a quick look at the demographics. The CEOs arriving in office in 2008 were, as indicated, older than the departing CEOs had been at the time of their ascension. All but four were men. The vast majority had a college degree; business degrees prevailed in North America, whereas engineering and economics degrees led in Asia and Europe. At the graduate degree level, business degrees such as MBAs were the most prevalent globally.
In addition to collecting demographic information, we looked at the career paths tapped by boards that recruited CEOs. For each incoming individual, we identified the highest position held prior to their appointment as CEO. (See Exhibit 7.) Naturally, most boards chose individuals who had responsibility for a P&L. Of the new CEOs, 65.6 percent had run a business; this included 18.9 percent of the total incoming class who had been CEOs before (generally, but not always, of another company); 27.4 percent who had been business unit leaders; and others who had been regional heads, presidents, or chief operating officers. Just over 14 percent had been board members, and only 15.2 percent had been promoted from a career that culminated in functional leadership, including the CFO position.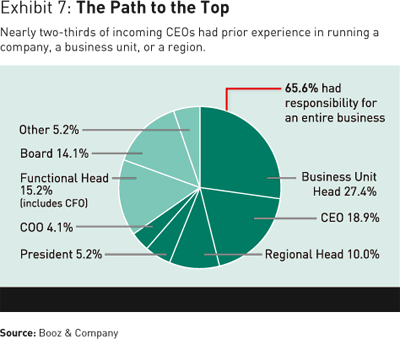 Alan Joyce, the recently appointed CEO of Qantas Airways Ltd., provides an example of a business unit head being promoted to the top job. Founding CEO of subsidiary Jetstar Airways Pty Ltd., the low-cost carrier that quickly became the fastest-growing profit center at Qantas, Joyce was a fast-rising star, and he now runs Australia's flag carrier at the age of 42.
It is noteworthy that nearly all the incoming CEOs had held some functional role in addition to their general management experience. The most prevalent background was operations (56 percent). This was followed by finance (36 percent), strategy and planning (30 percent), and marketing and sales (24 percent).
Dirk Meyer, the new CEO of Advanced Micro Devices Inc. (AMD), is one of those who collected valuable functional experience en route to the top. In addition to playing a major line management role as head of AMD's processor group (the company's only business line after it spun off its flash memory group in 2005), he has been an R&D leader, serving as vice president of engineering. He is also one of the most experienced and prolific engineers in the chip industry, with more than 40 patents and many chip designs to his credit.
With rare exception, the 2,500 companies represented in this study have operations in multiple countries. So it stands to reason that international experience would be an increasingly important entry in any prospective CEO's resume, and, indeed, 52 percent of the new CEOs we studied have held an international title, such as regional manager outside the country where the company is headquartered. That said, we have yet to see global diversity take root in the CEO suite in the form of an expatriate CEO. Only 13 percent of the new CEOs we studied were not nationals of the country in which the company was headquartered.