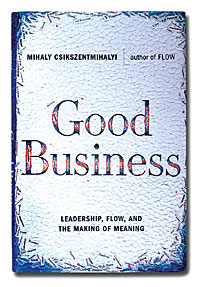 In fact, providing happiness for followers is Mihaly Csikszentmihalyi's starting point in Good Business: Leadership, Flow, and the Making of Meaning (Viking Penguin, 2003). Csikszentmihalyi (pronounced "CHICK-sent-me-high-ee") argues that happiness equates with "flow," that feeling enjoyed by artists, writers, and others who do creative work when they are so absorbed in what they do that they lose track of time and place. In this blissful condition, all one's worries and concerns are set aside. Skilled athletes call this feeling "being in the zone." We feel confident predicting Csikszentmihalyi's name will never become a household word, but his concept of "flow" is gaining currency.
Csikszentmihalyi has a creative take on the world, and, in his previous books, he helped remove psychology from its narrow analytical and experimental boxes and apply it to the big issues facing individuals and society. Here his argument is simple and on target: Life is about the development of individual potential, and for all practical purposes, the place where that potential can be realized is inside business organizations. Thus, if leaders have a social responsibility, it is to provide employees with the opportunity and conditions under which they can fulfill their potential.
For all that, the author has written a book that feels 20 years out of date. Arguing that corporate leaders have responsibilities to employees, customers, and society, he approvingly cites business heroes of decades past. Although the people he mentions were all farsighted, brave, and virtuous leaders, and they deserved their hero status at the time, the question to be asked today about them is why they failed. They failed to convert other executives to their noble causes and, in most cases, even failed to leave lasting legacies in their own organizations. It would be useful if Csikszentmihalyi had investigated why: Were they ineffective communicators? Did they fail to practice what they preached? Was society not yet ready for their messages? Or were their ideas flawed? Indeed, Csikszentmihalyi seems unaware of their track records, and unaware of the gallons of ink expended on the subject of business's social responsibility in the 1970 to 1990 time frame.
Moralizing and Mush
It also would have been useful had Csikszentmihalyi addressed the issue of why, given the lip service paid by CEOs to the importance of "their people," so few of them do much to create work environments in which employees can truly grow. One wonders why he cites as authorities half a dozen hard-nosed CEOs whose policies were the antithesis of the idealistic ones he advocates. Alas, the problem seems to be that he — like his equally innovative co-researcher, Harvard's Howard Gardner — knows too little about business to offer useful advice to corporate leaders. What we get here is a disappointing mixture of moralizing and mush. This is unfortunate because, when all the detritus has been washed through his sluice, a true golden nugget remains. If executives were to assume responsibility for creating conditions under which employees could develop and find meaning, it is highly probable that corporations would become more effective and productive. Although Csikszentmihalyi tries to show how to apply the concept of flow to the design of organizations and work tasks, he fails to make his argument convincingly and seems unaware of the numerous and well-documented workplace experiments undertaken in the last third of the 20th century that addressed the very problems he identifies.
Doing just that has been the lifelong contribution of Edward Lawler, although the title of his 34th book may give a wrong impression about its contents. Treat People Right! How Organizations and Individuals Can Propel Each Other into a Virtuous Spiral of Success (Jossey-Bass, 2003) is not a manual for leaders bent on buying employee loyalty with hot tubs, beer busts, and casual Fridays. Instead, it is a hardheaded compendium of what has been learned about organizational effectiveness over the last 40 years, during which Lawler has arguably been the leading researcher in the field. Lawler describes what leaders need in order to attract, retain, develop, motivate, and reward employees. In so doing, he never mentions the usual suspects: charisma, communication, or control. Instead, he says the goal of a leader is to create an effective organization, one in which strategy, structure, and systems are aligned in such a way that it is in employees' self-interest to work productively.