The methods that most global marketers have used in China so far will not be effective in the future. Most multinationals have concentrated their Chinese marketing in relatively small parts of the country, targeting only a fraction of the potential consumer population. Global companies are most familiar with the "big three" clusters: the Yangtze River Delta region around Shanghai, the Pearl River Delta region running from Hong Kong to Guangzhou, and the region around Beijing and its neighbor Tianjin. These three areas account for almost half of China's GDP and have relatively high per capita GDP, about $5,000 to $6,500. But the rest of China represents a yet more promising market, with a higher urbanization rate, new transportation and communications links, and many cities with populations of more than 1 million. (See Exhibit 1.)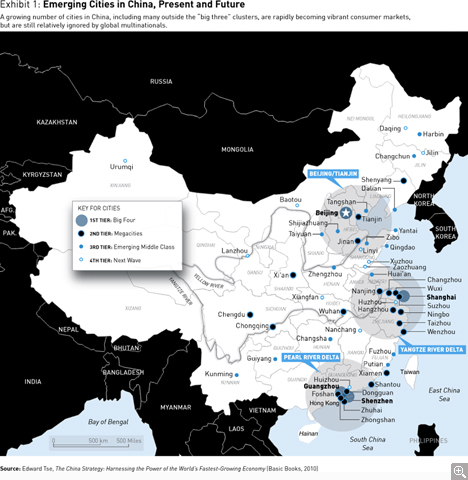 The differences within regions are also enormous. Even in the wealthiest provinces, such as the coastal parts of Guangdong or Zhejiang, you need travel only a short distance inland and incomes fall abruptly. The gap between rural and urban residents splits the nation; the divide between permanent residents and migrant workers splits many cities.
And although the middle class is large, it is also unpredictable. The rapid pace of economic growth in China has disrupted traditional patterns of consumer development that build commitment to a product over time. People who were living in frugal, company-assigned, company-owned apartments a decade ago now have their own homes, an array of possessions, and possibly a car. With little or no history of consumption, these consumers tend to be difficult for marketers to reach: They are fickle and demanding, often shopping on price alone. Brand loyalty is a new notion to them. At the same time, a rapidly growing group of people at the high end are very brand conscious and interested in showing off their wealth as they acquire known products. With markets and tastes continuing to change, it is difficult to predict what kind of path China's consumers will follow. They cannot be taken for granted.
One company that understands the complexity of Chinese consumer markets is KFC, the most successful restaurant chain, foreign or domestic, in the country. Since arriving in China in 1987, this American fried chicken specialist has set up more than 2,900 restaurants in 450 cities, with about 300 outlets opening every year.
KFC spent nearly a decade figuring out its business model for China, even though it was led by a group of executives who knew the country well. Many of them, including the head of China operations, Sam Su, had been raised in Taiwan. Su's team began by looking at the whole range of the company's operations, from its menu offerings to its supply chain. Their first conclusion: Food, not systems, was the most important thing to get right. They gradually extended the menu, experimenting with different items, often making them available for just a limited period. They invested in ovens so they could offer more than fried food, and began selling juices, salads, and congee, a Chinese rice porridge. Rather than rapidly bringing in menus and practices from elsewhere without carefully assessing their merit, they built the KFC business model slowly and fit their approach to China's diverse conditions.
The Sophistication of Entrepreneurial China
As Chinese companies become more successful, they are becoming global competitors. Some of them, like Huawei — the world's third-largest maker of mobile-infrastructure equipment and the fifth-largest telecommunications manufacturer overall — are having a dramatic impact on their industries. Huawei played a major role in forcing a global industry restructuring in which Siemens and Nokia merged their network infrastructure divisions and Alcatel acquired Lucent.