China's aircraft manufacturers could have a natural advantage within the burgeoning Chinese airline industry, particularly if the market for air travel within China grows as anticipated. The industry is currently expected to need 3,000 passenger and freight aircraft in the years up to 2025, with an estimated value of just under $290 billion. Like automobile and telecommunications companies before them, aircraft makers will discover that they cannot avoid building production facilities in China because of the combination of lower costs and better access to China's markets.
The challenge for global companies facing this sort of emergent Chinese competition is to get the balance right: They must position themselves for maximum gain while minimizing risk and maintaining their own distinctive edge. This objective is best accomplished by tailoring products for the Chinese market — often with sophisticated support and services that other companies cannot match.
The Trajectory of Official China
To many observers, especially Westerners, China's embrace of a market-based economy seems to have made the country capitalist in all but name. They assume that in a country with economic freedoms and a rapidly growing middle class, democracy and political freedom will inevitably follow.
But thus far, that assumption has been wrong. Under every plausible scenario, China's government will continue to be authoritarian for the foreseeable future. The Chinese Communist Party (CCP) may be less controlling than it was in the past, but its more than 70 million members continue to dominate every level of government and society — and they are deeply committed to remaining the country's sole holders of political power. Moreover, they (and many of their country's citizens) believe that China's development, both socially and economically, can be achieved for now only under the auspices of the CCP.
In the early 2000s, party leaders directed several research institutes to study examples from other nations, including the collapse of socialist rule in the Soviet Union and the continued success of Singapore's People's Action Party. They concluded that even China's powerful rate of economic growth was not sufficient for stability. They would have to create, as party chief (and current president) Hu Jintao called it, a "harmonious society," reducing inequalities that might lead to social unrest, maintaining openness to the rest of the world, embracing environmental responsibility, and spending more on education and health care. They would also maintain close control over the business sector, even while fostering more of the entrepreneurial activity that had produced so much success.
For businesses, the result has been a complex and ever-changing set of rules and government practices that determine what a multinational company may or may not be able to achieve in China. At the same time, the general policy of liberalization continues, toward fewer restrictions on ownership (including the right of non-Chinese companies to own all or part of Chinese subsidiaries) and higher levels of "product market freedom": the ability to make business decisions without government restrictions. (See Exhibit 2.)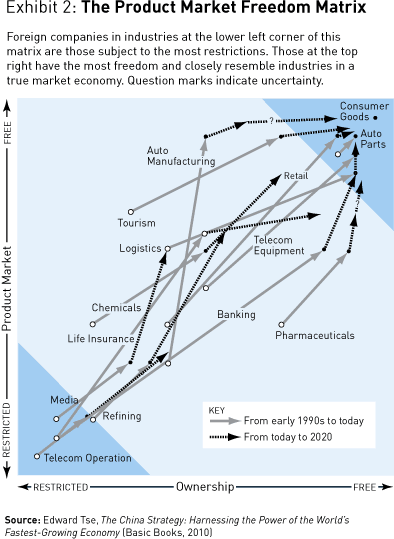 But some industries are liberalizing further and faster than others. Consumer goods have had high ownership freedom and high product market freedom for years, because Beijing decided in the early 1990s that the consumer goods industry was not strategic. Telecommunications service companies, by contrast, have had little ownership freedom and little product market freedom. In the early to mid-1990s, many of the world's leading telecom operators established some kind of presence in China. They all hoped to gain entry when telecom services were liberalized. Yet today, the industry remains entirely in the hands of state-owned companies, with their services strictly licensed, and it will almost certainly stay that way. Consequently, nearly all the foreign operators have packed their bags and left.