Convergence and compression — these are the macro themes that emerge from our analysis of 10 consecutive years' worth of detailed data on CEO succession among the world's top 2,500 public companies. This rich database comprises 3,719 CEO turnover events globally. Looking across the decade, it is remarkable to see how turnover rates have converged across regions since we first began tracking them in 2000. The traits of new CEO appointments — the predominance of insiders, the split of the CEO and chairman roles, the growth of the apprentice model (in which the new CEO's predecessor assumes the job of board chairman), the consistency of industry turnover rates — all are converging around new global norms.
Meanwhile, the compression of the role itself has become more noticeable, both in the data and in our ongoing conversations with CEOs around the world. This year, we conducted more than a dozen interviews with CEOs in the United States, Europe, South America, and Japan, and their remarks (captured in the second part of this article, "The Evolving Role of the CEO") reaffirm the study's conclusions: The tenure of a CEO is becoming shorter and more intense, the margin for error or underperformance is narrow, and the role of CEO increasingly excludes the job of also being chairman. On the other hand, the CEO increasingly engages with the board of directors, and also tends to have more opportunity to consult with the chairman. These sitting CEOs gave us rare insights into how the role has changed as a result of these pressures, and how they've managed to steer an effective course.
"It's not the amount of work, but the sheer intensity of it," notes Ian Livingston, executive director and CEO of telecommunications giant BT Group PLC. "It doesn't seem to drop."
"There aren't many things I don't feel both accountable and responsible for," says Doug Oberhelman, CEO-elect of heavy equipment manufacturer Caterpillar. "I don't think there's any abdication of anything by the CEO on any subject."
Not surprisingly, these trends of convergence and compression contribute to a high global churn rate among the world's top CEOs. In 2009, CEO succession on a worldwide basis remained steady at the relatively high level of 14.3 percent, a level at which CEO turnover appears to have plateaued during the past five years. (See Exhibit 1.)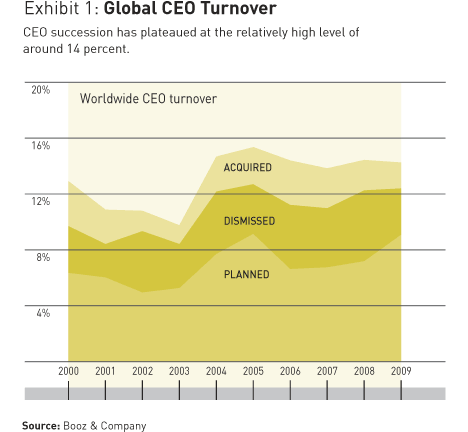 2009 at a Glance
In 2009, as economies around the globe bounced from rock bottom to incipient recovery, 357 new chief executives were appointed among the top 2,500 public companies. Of these succession events, 102 were located in North America (29 percent), 97 in Europe (27 percent), 49 in Japan (14 percent), 79 in the rest of Asia (22 percent), 18 in Africa and the Middle East (5 percent), and 12 in South America (3 percent) — which basically mirrors the relative numbers of top 2,500 companies in these regions.
The regional breakdown for overall turnover rates is largely consistent with that of the previous year, particularly in Europe and Japan. North American turnover declined from 14.8 percent to 12.4 percent. Europe was level at 15 percent. Japan, which experienced the highest regional rates of turnover in both 2008 and 2009, dipped slightly, from 16.9 percent to 16.4 percent. And the rest of Asia increased markedly, from 13.0 percent to 15.3 percent. Asia is increasingly dominated by companies headquartered in China. In 2000, companies based in China and Hong Kong accounted for 38 (1.5 percent) of the largest 2,500 public companies in our global sample. In 2009, that number stood at 220 (8.8 percent).
Planned successions (those in which the CEO retires or chooses to leave) constituted the bulk of turnover events, particularly in Japan (84 percent) and North America (71 percent). The number of forced turnovers (in which the CEO is typically removed by the board) declined region by region. Merger-related turnover was down on an overall basis, but was higher in Europe and the rest of Asia on a percentage basis. Both forced and merger-related successions were highest in Europe on an absolute and relative basis.