And although the greatest opportunities lie in new construction, every city — regardless of its size or level of development — can make smart choices in the sustainable rejuvenation of its existing infrastructure.
Although it will require many different approaches to whittle down society's impact on the planet, the three best practices highlighted in this article — urban planning, technology, and investment — are essential in the drive to achieve a low-carbon lifestyle and to ultimately reach the goal of zero-carbon living. In addition, cities must view these practices through a lens of livability, finding synergies between initiatives that promote quality of life and ecological and economic health. In so doing, they must leverage their unique assets and set long-term planning horizons. By galvanizing all our intellectual, technological, and financial resources, we can avert environmental destruction and build a sustainable foundation for future growth, at the same time that we meet tomorrow's urban challenges.

Cities and Global Warming: Doing the Math
Climate scientists and environmental policymakers are reaching a growing consensus that the average global temperature must not rise more than 2 degrees Celsius over pre-industrial levels if we are to avoid dangerous changes in the world's climate. To have a better than 50 percent chance of forestalling such a rise, cumulative global carbon emissions must be limited to 870 gigatons of CO2 equivalent between 2009 and 2100. However, without serious changes in the way that urban infrastructure is created and used, the growth of our cities will create roughly half that amount in the next three decades alone, as shown in the chart.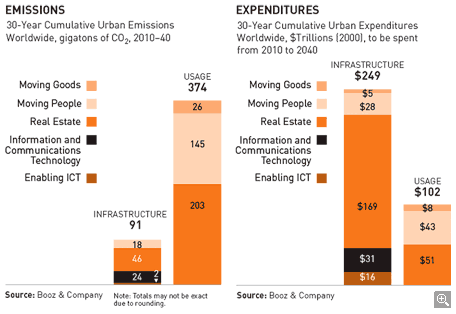 Over those same three decades, however, we estimate that cities worldwide will spend US$350 trillion on the construction, operation, and maintenance of urban infrastructure, including power production and distribution, residential and commercial buildings, water and waste systems, roads and transportation, and supporting information and communications technology.
By making up-front investments in cutting-edge, lower-carbon technologies, cities could realize dramatic future economic and environmental gains. Our analysis shows that if an additional $22 trillion were spent on green residential and transportation technology right now, cities would save a net $33 trillion over the lifetime of the infrastructure by lowering operating costs, and could reduce future emissions by as much as 50 percent.
—N.P., S.A., S.H.
Reprint No. 10303
Author Profiles:
Nick Pennell is a partner with Booz & Company in London. He coordinates the firm's low-carbon and sustainability activities, and works with clients on sustainability and energy issues.
Sartaz Ahmed is a principal with Booz & Company in Washington, D.C. She focuses on strategy related to low carbon, sustainability, and the energy and infrastructure sectors.
Stefan Henningsson is director of the climate change program at the World Wide Fund for Nature (WWF) in Sweden and a member of the organization's Global Climate Initiative.