Each of these key assumptions obscures the value at the bottom of the pyramid. It is like the story of the person who finds a $20 bill on the sidewalk. Conventional economic wisdom suggests if the bill really existed, someone would already have picked it up! Like the $20 bill, the bottom of the pyramid defies conventional managerial logic, but that doesn't mean it isn't a large and unexplored territory for profitable growth. Consider the drivers of innovation and opportunities for companies in Tier 4. (See Exhibit 2.) MNCs must recognize that this market poses a major new challenge: how to combine low cost, good quality, sustainability, and profitability.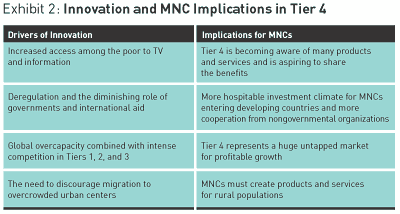 Furthermore, MNCs cannot exploit these new opportunities without radically rethinking how they go to market. Exhibit 3 suggests some (but by no means all) areas where an entirely new perspective is required to create profitable markets in Tier 4.
Tier 4 Pioneers
Hindustan Lever Ltd. (HLL), a subsidiary of Great Britain's Unilever PLC and widely considered the best-managed company in India, has been a pioneer among MNCs exploring markets at the bottom of the pyramid. For more than 50 years, HLL has served India's small elite who could afford to buy MNC products. In the 1990s, a local firm, Nirma Ltd., began offering detergent products for poor consumers, mostly in rural areas. In fact, Nirma created a new business system that included a new product formulation, low-cost manufacturing process, wide distribution network, special packaging for daily purchasing, and value pricing.
HLL, in typical MNC fashion, initially dismissed Nirma's strategy. However, as Nirma grew rapidly, HLL could see its local competitor was winning in a market it had disregarded. Ultimately, HLL saw its vulnerability and its opportunity: In 1995, the company responded with its own offering for this market, drastically altering its traditional business model.
HLL's new detergent, called Wheel, was formulated to substantially reduce the ratio of oil to water in the product, responding to the fact that the poor often wash their clothes in rivers and other public water systems. HLL decentralized the production, marketing, and distribution of the product to leverage the abundant labor pool in rural India, quickly creating sales channels through the thousands of small outlets where people at the bottom of the pyramid shop. HLL also changed the cost structure of its detergent business so it could introduce Wheel at a low price point.
Today, Nirma and HLL are close competitors in the detergent market, with 38 percent market share each, according to IndiaInfoline.com, a business intelligence and market research service. Unilever's own analysis of Nirma and HLL's competition in the detergent business reveals even more about the profit potential of the marketplace at the bottom of the pyramid. (See Exhibit 4.)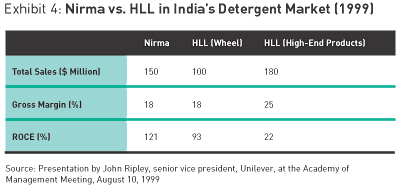 Contrary to popular assumptions, the poor can be a very profitable market — especially if MNCs change their business models. Specifically, Tier 4 is not a market that allows for the traditional pursuit of high margins; instead, profits are driven by volume and capital efficiency. Margins are likely to be low (by current norms), but unit sales can be extremely high. Managers who focus on gross margins will miss the opportunity at the bottom of the pyramid; managers who innovate and focus on economic profit will be rewarded.
Nirma has become one of the largest branded detergent makers in the world. Meanwhile, HLL, stimulated by its emergent rival and its changed business model, registered a 20 percent growth in revenues per year and a 25 percent growth in profits per year between 1995 and 2000. Over the same period, HLL's market capitalization grew to $12 billion — a growth rate of 40 percent per year. HLL's parent company, Unilever, also has benefited from its subsidiary's experience in India. Unilever transported HLL's business principles (not the product or the brand) to create a new detergent market among the poor in Brazil, where the Ala brand has been a big success. More important, Unilever has adopted the bottom of the pyramid as a corporate strategic priority.