We then cross-categorized the deals by their capabilities system fit. Our capabilities classifications were:
• Enhancement deals: in which the acquirer adds new capabilities to fill a gap in its existing capabilities system or respond to a change in its market.
• Leverage deals: in which the acquirer takes advantage of its current capabilities system by applying it to incoming products and services (and in many cases improving the acquired business's performance).
• Limited-fit deals: in which the acquirer largely ignores capabilities. The transaction doesn't improve upon or apply the acquiring company's capabilities system in any major way. In fact, these deals often bring the buyer a product or service that requires capabilities it doesn't have.
Almost two-thirds of the transactions in our study made good use of capabilities, through either enhancement or leverage. (See Exhibit 2.) But that left a substantial group of deals (37 percent) that were, in effect, conducted with capabilities as an afterthought. This provided us with a clear basis for comparison.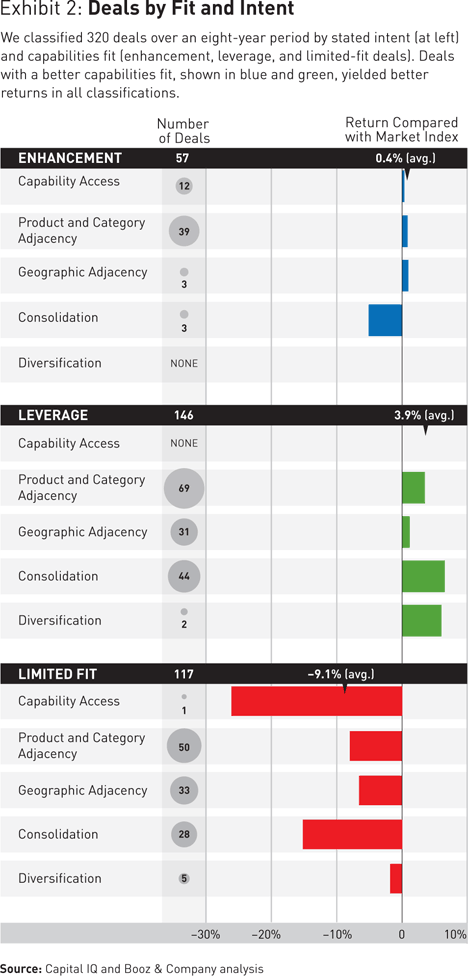 We analyzed deal performance by looking at the acquisition's impact on shareholders — relative share price change plus dividends received, if any — two years to the day after a transaction closed. The eight-year period covered by our study was unusually volatile for the stock market; overall share prices fell in the early 2000s, then surged to record highs, then collapsed after the 2008 financial crisis. Many deals announced between June 2006 and June 2008, in particular, had lower share prices 24 months later, given the battering that shares took overall. We corrected for these market swings across industries by using relative shareholder returns (compared with the sector and region). Throughout this turbulence, shareholder returns held up considerably better among the acquirers that paid attention to capabilities than among those that did not.
On average, the biggest premiums went to our "leverage" classification — deals that made use of the acquiring company's capabilities system. Their success is not surprising; in these deals, buyers are applying their already advantaged capabilities systems to incoming businesses, products, and services, generating performance improvements and giving them an environment in which to thrive. Examples include Novartis's acquisition of Alcon; just about any Danaher acquisition; and Oracle's acquisitions of Siebel Systems, Hyperion Solutions, and BEA Systems (which took advantage of Oracle's capabilities in database management and the sale and integration of enterprise software). In a leverage deal, the acquirer may not need to change anything about its own capabilities system to make it work; these are often low-risk deals.
Enhancement deals had the next-biggest premiums among transactions in our study. Analysis of the data suggests that they add less value than leverage deals, at least in the short run, because they lead to changes in the core capabilities system. These deals may require investment, involve some market risk, or (most likely) simply take more time to reach fruition. Enhancement deals can provide a way to deepen a capability a company already has; for example, Disney's acquisition of Pixar catalyzed its revitalization not just as a producer of animated films, but also as a provider of entertainment to children and teenagers. They can also enable success in an adjacent category through capabilities expansion, as Altria found when it acquired UST and expanded successfully from cigarettes into smokeless tobacco.
Limited-fit deals fared the worst. Every deal faces execution risks, including integration challenges, cultural differences, and the departure of key executives. But deals that ignore capabilities are flawed in a more fundamental way; the best postmerger integration practices in the world can't save them. (See "Motherhood and Snapple Pie," by Rob Hertzberg, below.) At first glance, limited-fit deals may seem like another name for diversification deals, but they are actually quite different; there are many adjacency and consolidation deals whose incoming capabilities do not fit well with the acquiring company's capabilities system. Examples include William Morrison Supermarkets' 2004 purchase of Safeway, a U.K. convenience store chain; the 2003 merger of Biogen (biotech) with IDEC (pharmaceuticals); and Home Depot's 2006 purchase of the construction materials wholesaler Hughes Supply — which it divested less than a year later to focus on fixing its core big-box retail business. Some limited-fit deals generate significant returns, especially consolidation plays, but as a group, their performance is far below that of deals that take capabilities into greater account.