Perhaps not coincidentally, other 1960's and 1970's nostalgia is relatively chic (for instance, bell-bottom jeans). Interestingly, memorabilia from prior generations is largely confined to antique stores - their emotionally loyal customer base is gone. Could it be that emotionally loyal (original) customers provide the core customer group for many nostalgia items?
3. Creating nontraditional line extensions
The conventional wisdom on brand extensions is clear: perceptual fit (brand image) or benefit transfer (product feature similarity) is necessary for a brand extension to succeed. Conventional wisdom also dictates that character-based icons such as Mickey Mouse and Ronald McDonald are successful platforms for product introductions.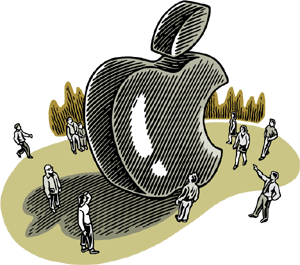 However, there are many examples of brand extensions where the element of the brand that is being "extended" is simply an affinity for the brand. Swiss Army wristwatches, Jeep portable radios and Porsche sunglasses are all examples of successful brand extensions in which the original category and brand attributes are less relevant to the new category than an overall affinity for the brand.
Why do "emotional extensions" work? One hypothesis is that emotionally loyal customers are predisposed to adopt the new product, creating an instant "critical mass" of customers loyal to the new product. In addition, the emotionally loyal become advocates for the favored brand in the new category, generating acceptance and adoption among a broader set of customers. Thus, the emotional extension enjoys a different "brand halo" from the functional extension: The functional extension is reducing search costs for its target audience, while the emotional extension is leveraging its fan club.
THE HALO EFFECT
In the aftermath of New Coke, as Frederick Allen relates in his book "Secret Formula" (Harper Business, 1995), the president of Coca-Cola, Don Keough, said, "The simple fact is that all the time and money and skill poured into consumer research on the new Coca-Cola could not measure or reveal the deep and abiding emotional attachment to original Coca- Cola felt by so many people.'' He added: "The passion for original Coca-Cola - and that is the word for it: passion - was something that caught us by surprise,'' and "it is a wonderful American mystery ... and you cannot measure it any more than you can measure love, pride or patriotism."
Ultimately, Coca-Cola recovered from its New Coke introduction, regained its standing among its American brand zealots and went on to conquer the world. As reported in "Secret Formula," after almost 40 years out of the market, 99 percent of consumers in East Germany still were aware of the Coke brand.
As power retailing and the Internet slash consumers' search costs and competitors get better at quickly replicating innovations, creating value through stirring and satisfying customers' emotional needs is becoming increasingly important. Ultimately, feelings of belonging, self- actualization, even friendship toward a brand are true sources of consumer value, much like a new product feature or an improved warranty - but much harder for brand managers to replicate.
Albeit small in numbers, brand zealots and their halo effect present a powerful opportunity for turning a renegade army into an organized group of staunch supporters and users of the brand. Helping brand zealots achieve their full brand experience, allowing them to get together and channeling their actions in favor of the brand could become effective in guarding and extending brand value and in winning an increasingly demanding competitive race.
The Volkswagen Beetle: The Emotional Power of the Love Bug
What explains the Volkswagen Beetle phenomenon? It is the best-selling car in history, with well over 20 million ultimately sold globally. In the United States, the Beetle enjoyed an astounding 32-year run. Some of its success can be explained by the Beetle as a great product; it clearly was. However, emotional loyalty - evidenced by the Beetle as family member, Beetle as movie star and currently the New Beetle phenomenon - may have played an even more important role.