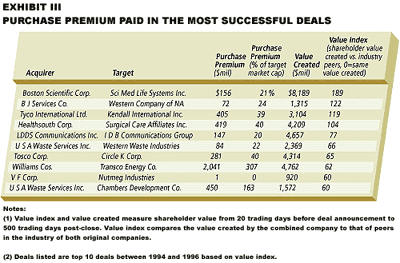 Exhibit III shows the companies in our "Best Deals" study that performed the best in percentage terms relative to their peers. Note that in some cases the purchase premium paid was very high as a percentage of target market capitalization. However, the value created in dollar terms was even higher. These companies realized that the merger was one step in a path to achieve a vision for their company in the long run. While the companies did not want to pay any more than they would have to in a well-played negotiation, they knew that the additional premium was justifiable relative to the value they observed in the potential merger.
Two deals illustrate this point well. In May 1995, the Williams Companies paid a 307 percent premium (the largest in our database) for the Transco Energy Company, creating the nation's largest volume natural gas pipeline system. Transco is the largest of the five interstate pipeline systems owned by Williams.
While analysts were cool to the deal, Williams saw the real value in investing in Transco's equipment and having access to the valuable Eastern United States market. Wall Street immediately took more than $250 million - more than 10 percent - off Williams' market value, leaving the stock at $25 a share, 25 percent below its 1994 high when the deal was announced (in late 1994). Meanwhile, Transco had been struggling under a heavy debt load that was incurred in settling poorly priced gas contracts in the mid-1980's. Williams had capital to invest, having just sold its Wiltel Network Services unit to LDDS Communications (now known as MCI Worldcom) for about $1.6 billion after tax. Williams' strategic vision, coupled with its ability to manage the significant change inherent in a merger, enabled the Williams/Transco entity to outperform industry peers by 62 percent and create more than $4.7 billion in additional value.
The deal between Tyco International Ltd., a diversified manufacturing and service company, and Kendall International Inc. in October 1994 is another example of a merger with a noteworthy premium that created significant shareholder value. At the time, Tyco's most important lines of disposable products were used in hospitals and nursing homes. These included single-use electrodes for electrocardiographs, blood bags, intravenous bags, etc. Tyco already had about $100 million in such business and had decided it wanted more. In 1994, therefore, Tyco bought Kendall, a market leader in disposable medical products. At a 39 percent premium it was also considered too rich by Wall Street, which underestimated Tyco's ability to build businesses and the evel of complementarity between the two companies' capabilities. A July 1994 article in USA Today written a few weeks after the deal was announced characterized it as one that showed "naïveté about refusals to pay too much and making 'pure strategic fits' in a deal that may or may not be synergistic." Tyco's stock price dropped almost 10 percent in the ensuing weeks. However, Tyco had a vision. It knew that the Kendall management team and capabilities could be a strong foundation for growing the disposable medical products business. It added four subsequent acquisitions, and the division that was started with the Kendall acquisition is now at $3.4 billion in sales versus about $100 million for Tyco originally. In this example, more than $3.1 billion in market value was created.
2. A Question of Relative Size. Another factor we examined was the relative size of the acquirer and target company to determine if some approaches, such as acquiring small companies, were more productive than others. Our analysis compared acquirer to target in terms of market capitalization and sales, and the absolute size of the acquirer, to see if any excess returns existed. No excess returns were found. (See Exhibit IV.)