Online auctions, offered by 55 percent of the profiled e-Marketplaces, represent the third most popular service offering. With consistent reports of double-digit savings for buyers, online auctions provide an easily measurable value proposition in e-Marketplaces. Even when priced with a small transaction fee, these e-Marketplaces can profit considerably, since online auction software can be acquired for as little as $50,000. Unfortunately, suppliers don't share the positive view: Most have experienced significant margin squeeze when forced to compete through this e-Marketplace service.
Beyond online auctions, the penetration rates for service offerings drop dramatically. Logistics — facilitating the physical flow of goods within a firm or between a firm and its suppliers and customers — ranks fourth (21 percent). Managing the wide variety of transportation modes and linking the fragmented carrier market offer a rich value proposition to many customers. At the same time, smoothing the physical movement of goods rather than just the data flow offers a far more difficult challenge than the top three services, a difficulty that helps explain the relative paucity of players.
Supply chain planning tools, like those offered by Manugistics Group Inc. and i2 Technologies Inc., help companies share sales and production forecasts over the Internet. Such collaboration reduces uncertainty in planning, which in turn decreases the need for inventory safety stock. According to our research, only 8 percent of the e-Marketplaces offer supply chain planning services.
Design collaboration (4 percent penetration) ranks the lowest among our six core services. Of greatest interest to e-Marketplaces serving original equipment manufacturers (OEMs), design collaboration allows these manufacturers to work with their first-tier suppliers to share the workload in product development.
Though the specifics vary dramatically, 45 percent of the e-Marketplaces offer some other form of service, typically either finance-related or something unique to an industry, such as the chemical regulatory compliance and tracking tools offered to farmers by the e-Marketplace XSAg.com. These value-added services appear to be an area where players can differentiate themselves.
Segmentation by Service Offering
Rather than simply examine the penetration rate of individual service offerings, we also decided to look at the service mix proffered by the exchanges. The segmentation provides a richer portrait of the evolution of the e-Marketplace phenomenon and hints at which type of firms are most likely to survive the current e-business shakeout. (See Exhibit 4.)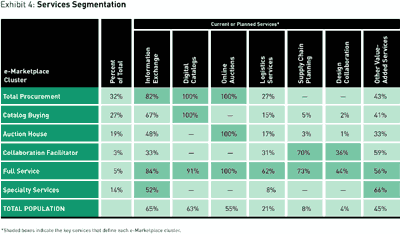 • Total Procurement. The largest cluster — covering 32 percent of the e-Marketplaces in our survey — encompasses companies that concentrate on digital catalogs and online auctions, the two core Internet procurement services. The majority of this segment (82 percent) also offer information exchange services. Among this segment, 9 percent have gone public.
PartMiner Inc., founded in 1993 to serve the global electronic-components industry, is representative of the Total Procurement segment. This e-Marketplace provides Internet-based applications to facilitate the product selection and purchasing processes. Like most early startups, PartMiner began with a revenue model that combined subscription fees and a transaction charge. The model soon proved unsustainable for the company, as it has for many other e-Marketplaces in this segment. In June 2000, PartMiner canceled all of its 2,200 subscriptions and relaunched. It now provides free access with no transaction fees, but charges a small fee for the services of a team of professional buyers who search for rare and hard-to-find components. With this free-access model, PartMiner hopes to draw users to the site and profit from the revenue generated from the 2 percent of its users who need assistance obtaining hard-to-find products.
• Catalog Buying. A quarter of the companies in the sample classify as Catalog Buying operations. Two-thirds of this segment provide information exchange services in addition to digital catalogs. Private networks represent a disproportionate percentage of this segment: Although private networks constitute only 3 percent of the e-Marketplaces currently in operation, they account for 6 percent of the Catalog Buying segment.