The United States has 12 months to create a voting system that works the way most people thought it was working.
A year ago, the general public learned what election officials in the United States have long known: The current setup is a mess. Old machinery, inaccurate registration rolls, ill-prepared poll workers, and convoluted procedures make it impossible for us to conduct an election with a completely accurate count. Moreover, the authority over the election system in the U.S. is so decentralized and disparate that no single solution can bring elections closer to what the voting public now demands.
But, vote we will — to elect 435 representatives and 33 senators this November and a president in 2004.
Debate over the subject of electoral reform has been vigorous but has resulted to date in little change. The California Institute of Technology and the Massachusetts Institute of Technology responded to what they called "a need for strong academic guidelines in the intersection of technology with democracy." The National Association of Secretaries of State pulled together a report that reviewed current and proposed election reform best practices throughout the country. The U.S. General Accounting Office, the National Commission on Electoral Reform, and the Constitution Project's Forum on Election Reform all identified topics for change. Late last summer, a week after the National Conference of State Legislatures insisted that states create their own electoral-reform guidelines, House Democrats issued a report recommending national standards for elections. Two days later, former U.S. Senator Bill Bradley cautioned about abandoning the status quo.
Although all the continuing discussions broadly address the issue of high- and low-level reform, most do not address the need for continuous improvement of the U.S. election system. And not one has looked for lessons from the one sector that has had plenty of experience not just in theorizing about change, but executing it: the business community. If election managers sit down to talk shop with their corporate counterparts, they will see that they face similar challenges — quality control, staff development, strategic planning and budgeting, customer service, and, yes, politics.
We come by our expertise through work we've done on projects with the Federal Election Commission, the National Association of Secretaries of State Election Reform Task Force, the State of Indiana's Bipartisan Task Force on Election Integrity, the Secretary of the State of California, and election officials in four other states in cooperation with the Defense Department's Federal Voting Assistance Program. We believe that election reform in the United States is the ultimate change-management project. Similarly, our e-business experience in both government and the private sector leads us to believe that automated-voting transactions are the ultimate electronic-commerce test. Unlike other electronic-commerce applications, voting transactions must remain anonymous as well as verifiable, auditable, secure, and private.
Although registration and voting must remain a core public function (like justice and defense), election administration can benefit by adopting basic corporate practices for strategy, organization, and technology.
The problems of the last national election involved more than technology. And future elections will have comparable difficulties if change is not initiated across all the key dimensions. In the pages that follow, we examine solutions that can lead to the construction of an electoral system that can uphold and sustain reform. Although there is no way to completely guard against error, sound business approaches that address three key elements — people, process, and technology — will greatly enhance the planning and execution of reform. (See Exhibit 1.)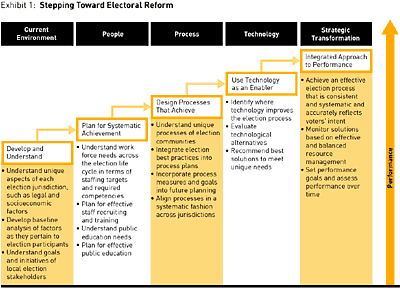 To avoid the problems of the last election, we need to understand and implement strategic planning and technology. To manage this change process, we must: