Alexis de Tocqueville's Democracy in America (1835) is another book that is much quoted and seldom read, although it should be. Choose from its many provocative chapter headings, such as "What Causes Almost All Americans to Follow Industrial Callings" or "Peculiar Effects of the Law of Physical Gratifications in Democratic Times," because this is too big a book, in every sense, to be read in a single weekend. Fluently and eloquently written by a young Frenchman, it is an insightful picture of America's democratic strengths as opposed to what he saw as the corrupted regimes of Europe. There were flaws in America, too. The author worried that corruption in political circles meant that "the ablest men in the United States are rarely placed at the head of affairs," and he worried about the growing numbers of the "rabble" in America's cities. Much of what he saw back in 1835 still rings true today, but some of the strengths he celebrated, the social cohesion that bonded communities, may be eroding. The book is a reminder of all that America stood for and promised — and must not abandon.
Marx and de Tocqueville were writing 160 years ago. Naomi Klein, a young Canadian, is writing today. Her book No Logo: Taking Aim at the Brand Bullies (1999) could be called a business book were it not for the fact that she is delivering a blistering attack on global capitalism, its exploitative corporations, its all-enveloping brands, its cultivation of desire and envy, and its overtones of greed. Most businesspeople won't want to read it, but they miss an important perspective by avoiding it. Apart from anything else, it is a riveting read, leading you around the world from vivid image via personal story to staggering statistics. Whether you agree with her or not, Klein is the voice of many of the people who protested in Seattle, Prague, and Nice. Anyone interested in the future of capitalism needs to listen to this articulate child of capitalism who has come to scorn the world she was born into.
If, however, you are looking for some solutions to the deeper problems of capitalism, particularly the endemic poverty of the developing world, you should turn to Hernando de Soto's The Mystery of Capital: Why Capitalism Triumphs in the West and Fails Everywhere Else (2000). De Soto is a Peruvian economist who puzzled over the paradox that you have to be truly entrepreneurial to survive in the slums of Lima and other cities in the developing world — yet this entrepreneurial energy doesn't flow into economic growth.
The explanation, he suggests, lies in the difficulty the poor have in turning their assets into usable capital because they often have no legal claim to their homes and shops. They have homes but no titles, businesses but no statutes of incorporation. They cannot borrow against assets that have no legal form. The advanced nations discovered in the Industrial Revolution how to leverage their property assets to create new capital, but it is one lesson that has, thus far, not reached people in poverty in the developing world. De Soto shows that in Egypt, for example, the unrecorded assets of the poor are worth 45 times as much as all the foreign investment ever sent to that country.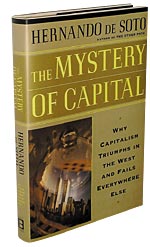 Some traditional economists have criticized de Soto's work, but he resonates with many others. Margaret Thatcher said that this book should be compulsory reading for all in charge of the wealth of nations. It is exciting because, unusually, it links analysis of a problem with obvious things that can be done. It might even happen that de Soto's ideas could provide a benevolent alternative purpose for the profusion of lawyers in affluent nations. Executives of multinationals, too, might be encouraged to look afresh at the entrepreneurial energies that de Soto suggests lie hidden in the emerging markets of developing countries.